Velten Lab
Bioinformatics and Genomics
Group page

Research lines

Group members

https://orcid.org/0000-0002-1233-5874
2020-Today Group Leader at the Centre for Genomic Regulation (CRG), Barcelona, Spain
2016-2019 Research Staff Scientist, European Molecular Biology Laboratory, Heidelberg (Germany)
2012-2016 Ph.D. in Genomics, European Molecular Biology Laboratory, Heidelberg (Germany)
2012 M.Sc. in Cancer Biology, German Cancer Research Center, Heidelberg (Germany)
News
Single cell sequencing opens new avenues for eradicating leukaemia at its source (01/03/2021)
A new tool can boost international research efforts to find cancer drugs
Summary
A better understanding of stem cell biology is key to regenerative medicine and oncology alike. While adult stem cells fuel healthy tissue regeneration by indefinite self-renewal and multilineage differentiation, the accumulation of mutations specifically in stem cells is often required for cancer formation. Tissue regeneration and oncogenesis are therefore two sides of the same medal.
The Velten lab uses single-cell genomics, high-throughput genetic screens and artificial intelligence to study the regulation of differentiation programs in hematopoietic and leukemic stem cells. In the past, we have created single-cell atlases of healthy and leukemic bone marrow, we have developed new tools for high-throughput genetic screens in single cells, and we have worked on new approaches for lineage tracing in human stem cell systems. The long-term vision of our lab is to transform stem cell research into a data science discipline, and thereby enable a quantitative, predictive understanding of stem cell biology.
Currently, we are pursuing two main lines of research. Working in the healthy hematopoietic system, we use high-throughput genetic screens to unravel the logic of gene regulatory elements. Working in acute myeloid leukemia, we attempt to identify cancer stem cell specific drug targets by combining single cell transcriptomics and lineage tracing. We are passionate about integrating experimental and computational approaches in our work.
News
Single cell sequencing opens new avenues for eradicating leukemia at its source (01/03/2021).
We have published our method to identify and characterize leukemic stem cells by single cell genomics.
€2.45 m to investigate leukaemia causes and therapies (11/03/2020).
Together with partners from the University Clinics Heidelberg and the Max Delbrück Center for Molecular Medicine (Berlin), we form part of the LeukoSyStem consortium that was awarded with a prestigious junior research alliance grant by the German government.
Job Openings
We are very interested in applications of prospective postdocs and PhD students with an interest in hematopoietic stem cell biology, gene regulation, single cell genomics, single cell genetic screens and/or machine learning.
Funding acknowledgements
The project "Single cell genomics for synthetic biology of gene regulatory element" (PID2019-108082GA-I00 / AEI / 10.13039/501100011033) has received funding from the National Research Agency (Agencia Estatal de Investigación, AEI), from the Spanish Ministry of Science and Innovation.
Single-cell multi-omics of leukemic and healthy stem cells
Acute Myeloid Leukemia (AML) develops through sequential genetic lesions in hematopoietic stem cells (HSCs). For example, preleukemic HSCs (pHSCs) already carry mutations present in AML (e.g., DNMT3A or TET2), but retain their ability to differentiate into healthy blood cells. The acquisition of additional mutations in these cells eventually leads to AML with chemo-resistant leukemia stem cells (LSCs) at the top of a cellular hierarchy. Targeted therapies of LSCs to improve the clinical outcomes of AML patients is an area of active research, but a major challenge remains: LSCs, preleukemic HSCs, healthy HSCs, and leukemia cells lacking stem cell properties (called blasts) are difficult to separate using conventional methods. Only combined genome and transcriptome analyses of individual cells have the potential to clearly distinguish between healthy blood stem cells, pre-leukemic cells and leukemia cells with and without stem cell properties. Together with Dr. Simon Raffel (University Clinics Heidelberg) we are generating such single-cell multi-omics datasets to systematically identify LSC-specific markers, biological processes, and potential therapeutic targets. In the future, we plan to apply similar clonal tracking approaches also to the study of lineage dynamics in healthy hematopoiesis.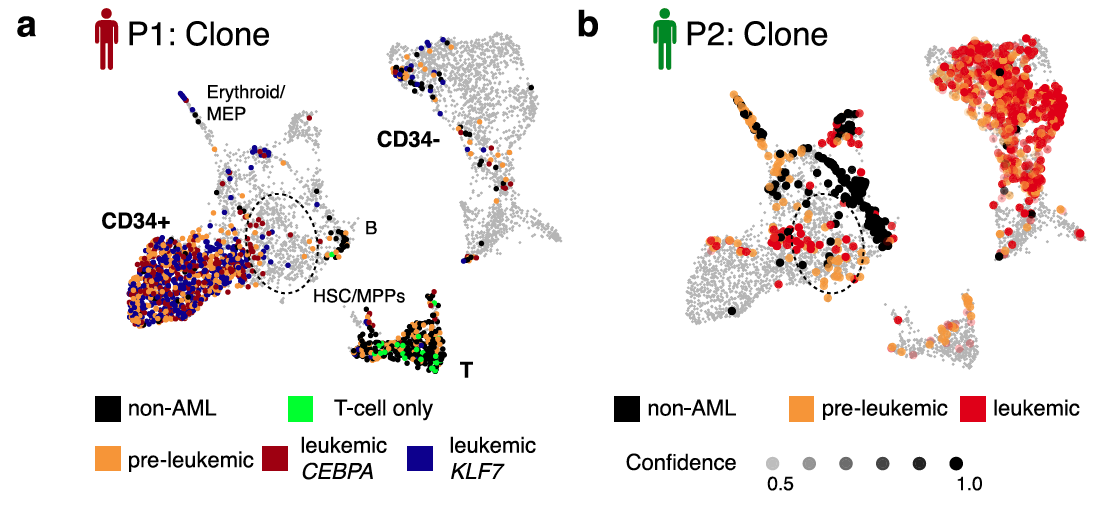 We have combined single cell transcriptomics with clonal tracking to identify leukemic, pre-leukemic and residual healthy hematopoietic stem cells. Reference: Velten et al., Nature Communication 2021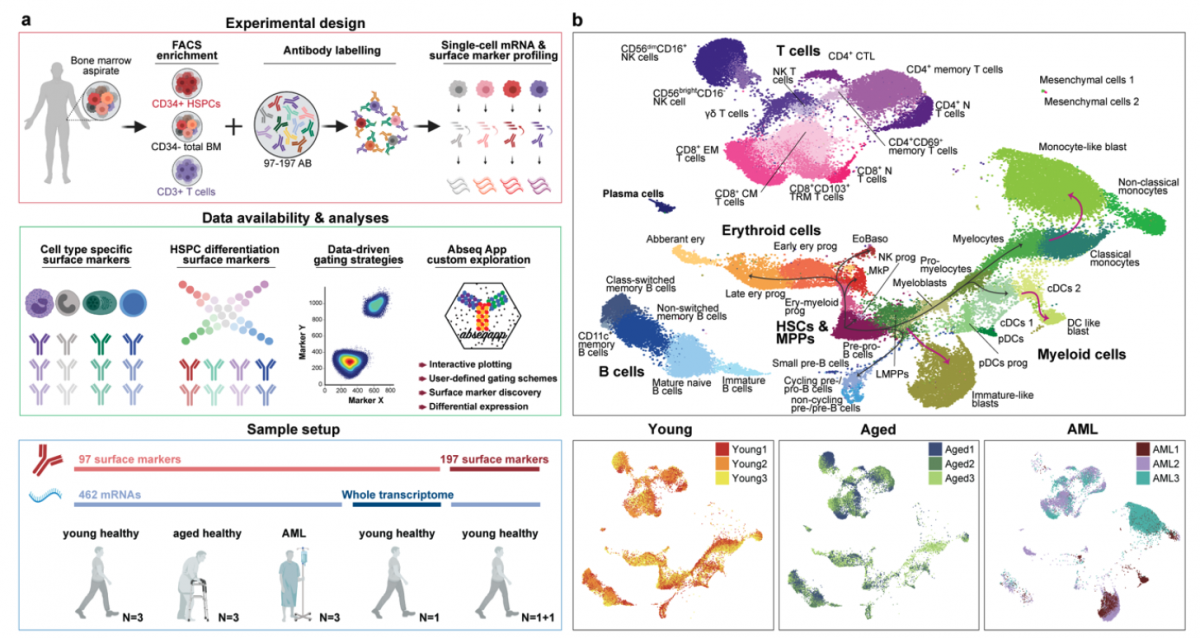 Together with the lab of Simon Haas, we have completed a detailed atlas of RNA + surface protein expression in healthy, aged and leukemic bone marrow. Reference: Triana et al., biorxiv
 
Single cell and synthetic genomics of gene regulatory elements
During cellular development and differentiation, genetic information needs to be activated in a precise and highly controlled manner. For example, the differentiation of hematopoietic stem cells to mature blood and immune cells involves the coordinate activation and inactivation of 100s of genes with very distinct activity patterns across cell types and differentiation stages. It is therefore evident that a complex regulatory logic connects the current cellular state, cell-extrinsic signals, and gene expression.
Ultimately, the decision as to which genes become active is made in cis, by the integration of signals at promoters and enhancers. To that end, transcription factors present in a given cell interact on DNA via complex rules involving cooperativity, synergies and antagonisms. However, these rules are poorly understood, and it therefore remains unclear how the DNA sequence of promoters and enhancers coordinates gene expression during development and differentiation. In particular, a quantitative understanding of the cis-regulatory grammar of gene regulation during cellular differentiation is lacking. 
In a project funded by the Spanish ministry of science and innovation, we develop tools for large-scale screens of gene regulation in single cells that will help us to unravel these rules.

In the past we have created maps of enhancers and their target genes by using a combination of pooled CRISPR screens and single cell transcriptomics. Reference: Schraivogel et al., Nature Methods 2020
Group Leader