Velten Lab
Bioinformatics and Genomics
Group page

Research lines

Group members

https://orcid.org/0000-0002-1233-5874
2020 – Group Leader at the Centre for Genomic Regulation (CRG), Barcelona, Spain
2016-2019 Research Staff Scientist, European Molecular Biology Laboratory, Heidelberg (Germany)
2012-2016 Ph.D. in Genomics, European Molecular Biology Laboratory, Heidelberg (Germany)
2012 M.Sc. in Cancer Biology, German Cancer Research Center, Heidelberg (Germany)
Summary
Adult stem cells are key to tissue regeneration, since they are capable of indefinite self-renewal and multilineage differentiation. Conversely, the accumulation of mutations in tissue stem cells in many cases underlies oncogenesis. A better understanding of stem cell biology is therefore key to advances in regenerative medicine and oncology alike.
Currently, single-cell genomics is transforming stem cell research into a data science discipline. In the past, we have used single-cell RNA-seq to challenge the text book model of hematopoiesis, and we have developed integrated spatial and single-cell genomic approaches to map the organization of the hematopoietic stem cell niche. In parallel, we have developed methods to investigate mRNA isoform heterogeneity at the single cell level, to study the effects of cancer mutations on gene expression, and to make single-cell RNA-seq more scalable.
While most previous efforts in the field have focused on the creation of static tissue-level cell type atlases and the inference of differentiation trajectories, ultimately, scGenomics will map individual cells in space and time by integrating information from multiple layers (e.g. mutational, transcriptomic, proteomic data, and imaging). The mission of the Single Cell Genomics of Tissue Regeneration lab is to develop cutting-edge single-cell 'multi-omics' technology and bioinformatic tools to answer questions surrounding the development, regeneration and oncogenic transformation of hematopoietic cells and other adult stem cell systems.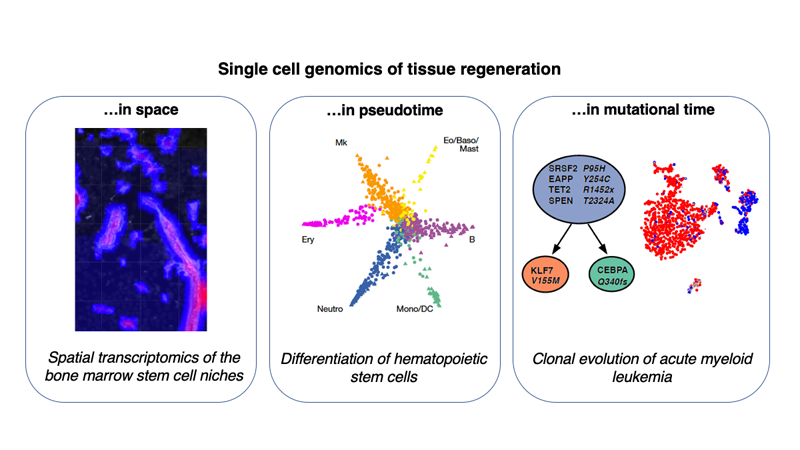 Job Openings
We are looking for 2 PhD student (bioinformatics/biology), funded for 4 years, to work on challenging interdisciplinary projects in the context of adult stem cells and single-cell multi-omics. Initial practical experience in bioinformatics, genomics and/or immunology is desirable, but if you like to work in an interdisciplinary manner and pioneer new technologies, the lab might be the right environment for you, no matter if your background is biology, bioinformatics, physics, or computer science. More information can be found at the job ads below, and do not hesitate to contact Lars Velten for questions on potential projects.
Biology: https://recruitment.crg.eu/content/jobs/position/phd-position-biology-single-cell-genomics-tissue-regeneration
Bioinformatics: https://recruitment.crg.eu/content/jobs/position/phd-position-bioinformatics-single-cell-genomics-tissue-regeneration
We are also looking for a Postdoc with in-depth knowledge of stem cell biology, mouse models, or bioinformatics. Please contact Lars Velten directly for more information.
Group Leader