CRG INTERNATIONAL PHD FELLOWSHIPS PROGRAMME
CRG INTERNATIONAL PHD FELLOWSHIPS PROGRAMME
Applying for a PhD @ CRG
Fellowships Available | Eligibility criteria | How to apply  |  Selection process | Call calendar | Contact
CRG PhD Positions are typically open between October and December each year and applications should be made via the Online Application Portal. Further information on how to apply is included in the page below, please read everything here carefully before applying.
Apply now to boost your scientific career in a center of excellence, backed by first class core technologies and a broad training portfolio in our multidisciplinary, international community. Fellows will benefit from an exciting international scientific environment and an integrated training programme, including access to state of the art infrastructure, lectures and seminars, specialised scientific and technological courses, complementary skills training and career development activities, phd symposia and retreats, as well as social activities.  
In this call, we do offer 13 - 16 fully funded scholarships for international life sciences PhD students
Decide which two CRG Supervisors you are most interested in applying for. Successful candidates will  carry out their research in one of the following scientific fields:
COSMA Lab - Stem cells | Retina | Cell Therapy  | Super Resolution Microscopy | Chromatin Structure | 3D Genome Organization | Reprogramming & Pluripotent Maintenance 
GEBAUER Lab - RNA Binding Proteins | Stress | Metastasis | Translation | Cancer Senescence
GUIGÓ Lab  -   Gene Finding |  Genome Annotation | Sotfware Development | Earth Biogenome Project | Comparative Epigenomics | DNA sequence patterns| High-Performance Computing
LEHNER Lab -  Deep Mutational Scanning | Machine learning | Protein Folding | Binding, Amyloids and Allostery | Splicing | Human genetic disease
IRIMIA Lab -  Evolution | Bioinformatics | Comparative Genomics & Transcriptomics | Microexons
MALHOTRA Lab - Protein secretion | Skin Biogenesus | Tissue Engineering
MARTÍ-RENOM Lab - Heritability | GWAS |  Population genetics | 3D genomics | 4D Nucleomics |  Disease | ADHD
NOVOA Lab (2 positions) 
1. Dry lab: Cancer Prognosis | Cancer Diagnosis | Machine Learning | Nanopore Sequencing | Algorithm Development | RNA Modifications | tRNA | Convolutional Neural Networks
2. Combined wet lab + dry lab: Sperm | Intergenerational Inheritance | Diet | Nanopore Sequencing | RNA Modifications | Small RNAs  
RUPRECHT Lab -  Mechanobiology | Morphogenesis | Cell Dynamics | Live Cell Microscopy | Bioengineering
SEBE-PEDROS Lab - Single Cell biology | Evolutionary Biology | Cell types | Transcription Factors |  Gene Regulatory Networks | Comparative Genomics | Biodiversity | Animal Development  
STROUSTRUP Lab -  Molecular Genetics of Ageing | Stochastic processes | Temporal Scaling | Systems Biology | Gene Regulation | Transcriptomics | Single Cell Sequencing
SURREY Lab - Self-Organization | Mechano-Biology | Synthetic Biology | Biophysics | Cytoskeleton | Advanced Optical Microscopy
VALCÁRCEL Lab - RNA | RNA Binding proteins | Splicing | Cancer | Therapeutics
VERNOS Lab -  Cell Biology | Mitosis | Microtubules | Aneuploidy | Cancer | Splicing- Based Therapeutic Approaches in Cancer
WEGHORN Lab -  Population Genetics | Cancer Genomics | Mathematical Modeling
Fellowships available
4 fellowships funded by Proyectos I+D Excelencia/Retos" 2021 Call funded by MINECO (herein referred to as FPI-project Grants) to Lehner lab, Marti-Renom Lab, Ruprecht Lab & Stroustrup Lab . 

Deadline to apply to these 4 positions: November 8, 2021

4 fellowships funded by Proyectos I+D Excelencia/Retos" 2022 Call funded by MINECO (herein referred to as FPI- SO project Grants);
Up to 9 fellowships funded by the labs ( ERC grants / CRG Core funding, etc.).
Selected PhD students will receive an annual work contract with a competitive salary that will be renewed annually for a maximum of 4 years following the applicable national regulations. All PhD students will receive full health and occupational insurance coverage and will be included in the Spanish Social Security System.
Eligibility criteria
Candidates should fulfil the following eligibility criteria at the time of the call deadline. If it becomes clear before, during or after the evaluation phase that one or more of the eligibility criteria have not been fulfilled, the proposal is declared ineligible and is withdrawn from any further examination.
The call is open to candidates of any nationality.
Candidates must have obtained a University Degree and a Masters Degree in biomedical sciences within the European Higher Education System (minimum 300 ECTS) or an equivalent University Degree that allows to start a PhD thesis in the candidate's home country by October 2022. Candidates who expect to be awarded with such degree by October 2022 are eligible to apply.
Candidates must have an excellent academic record, previous research experience and a strong commitment for scientific research.
Candidates must have a high working knowledge of English
Candidates invited to previous PhD call interviews are not eligible
Candidates performing their Masters at the CRG during the 2021/2022 academic year are not eligible
Candidates may not have worked at the CRG for more than 3 months before the call deadline
In case of doubts about the eligibility criteria, applicants should contact the Academic Office (academicoffice@crg.eu) prior to submitting an application.
How to apply
Applications must be submitted online 
Candidates must register in order to use the online application system.
The online application form requests all of the necessary information for the initial stages of the selection process (General information, Education, Coursework, Honours, scholarships, prizes and awards, research experience, scientific interests and reference letters.)
If the academic transcripts are not in Catalan, Spanish or English applicants should also attach a translation in one of the above mentioned languages.
Two reference letters will be automatically requested to the referees proposed by the candidate through the online system.
Applicants should select a maximum of 2 labs in which they would like to work. 
Candidates must ensure that all information is included before the deadline, including the reference letters. Incomplete proposals will not be considered.
Once the application is submitted, an acknowledgement of receipt will be automatically sent by e-mail to the applicant.
Applicants who would like to receive the information of the call in an alternative format (e.g. large print, Braille, audio or hard copy), or who are unable to apply online should contact us by telephone on + 34 93 316 01 00.
For any additional information, please check the FAQs and/or contact the Academic Office at academicoffice (academicoffice@crg.eu) 
APPLY HERE
Selection process
The selection of the fellows will be based on the candidates' academic qualifications and research excellence.
Pre-selection: The pre-selection will be based on the candidate's CV, reference letters and on the research interests. Complete applications will be reviewed within a month after the deadline.
Oral interviews: Due to the current situation caused by the Covid-19 pandemic, we anticipate the possibility of conducting interviews in a virtual format. Full details regarding the interview process will be sent to invited candidates 4 - 6 weeks after the application deadline.
Notification to candidates: Offers will be made to the successful candidates short after the interview period. Successful candidates would be expected to start the PhD latest by October 2022.
More details are included in the Call Text
Call Calendar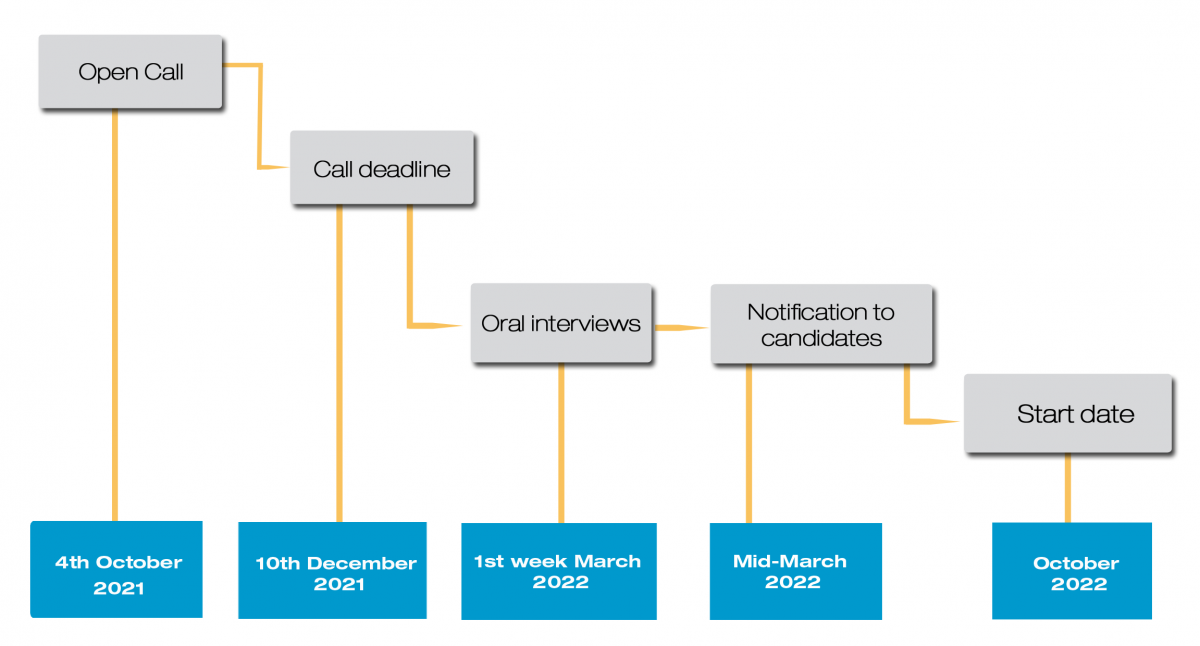 Contact
For any additional information, please contact the CRG Academic Office at: academicoffice@crg.eu