Sdelci Lab
Gene Regulation, Stem Cells and Cancer
Group page

Research lines

Group members

https://orcid.org/0000-0003-1330-4364
2005 B.Sc. in Biotechnology, University of Florence, Florence (Italy)
2007 M.Sc. in Medical Biotechnology, University of Florence, Florence (Italy)
2007-2009 Internship at the Department of Pathology and Oncology, University of Florence (Italy)
2012 PhD in Biomedicine, IRB (Institute for Research in Biomedicine), Barcelona
2013-2016 JDRF Postdoctoral fellow at CeMM (Research Center for Molecular Medicine of the Austrian Academy of Sciences), Vienna
2016-2018 Senior postdoctoral researcher at CeMM (Research Center for Molecular Medicine of the Austrian Academy of Sciences), Vienna
2017 M.Sc. in Bioethics, University Ramon Llull, Barcelona (Spain)
January 2019 Group Leader at the Centre for Genomic Regulation (CRG), Barcelona (Spain)
News
CRG scientists receive €5m to research cancer, ageing and evolution (03/09/2019)
Sara Sdelci, a Group Leader running a lab in the CRG's gene regulation, stem cells and cancer research programme, is one of the recipients. Her project EPICAMENTE will explore the roles of enzymes in cancer proliferation.  
Summary
The central role of metabolic rewiring during cancer progression is undeniable, but its direct impact on chromatin remodeling, epigenetics and gene transcription has been poorly investigated. It is known that cancer metabolism and epigenetic regulation can influence each other by 1) increasing or decreasing those metabolites needed for epigenetic modifications of DNA and histones , and 2) favoring or repressing the expression of specific metabolic enzymes. Still, very few examples of a functional interaction between metabolic enzymes and chromatin have been uncovered so far. Recently, the evidence that accumulation of metabolites in subcellular compartments can orchestrate specific cellular processes is replacing the old belief that metabolites simply diffuse in the cell in order to be used if necessary.
In line with this hypothesis, our group investigates whether enzymes involved in cancer metabolism directly influence chromatin remodeling, epigenetic regulation and gene transcription by localizing in the chromatin environment and influencing the in loco concentration of metabolites. To address this question, we apply a functional chromatin reporter strategy we developed and integrate it with cutting-edge techniques and genome-centric approaches. Thereby, we will identify novel targetable vulnerabilities of cancer cells, and uncover the basic principles of the interplay between the epigenetic landscape and cancer metabolism.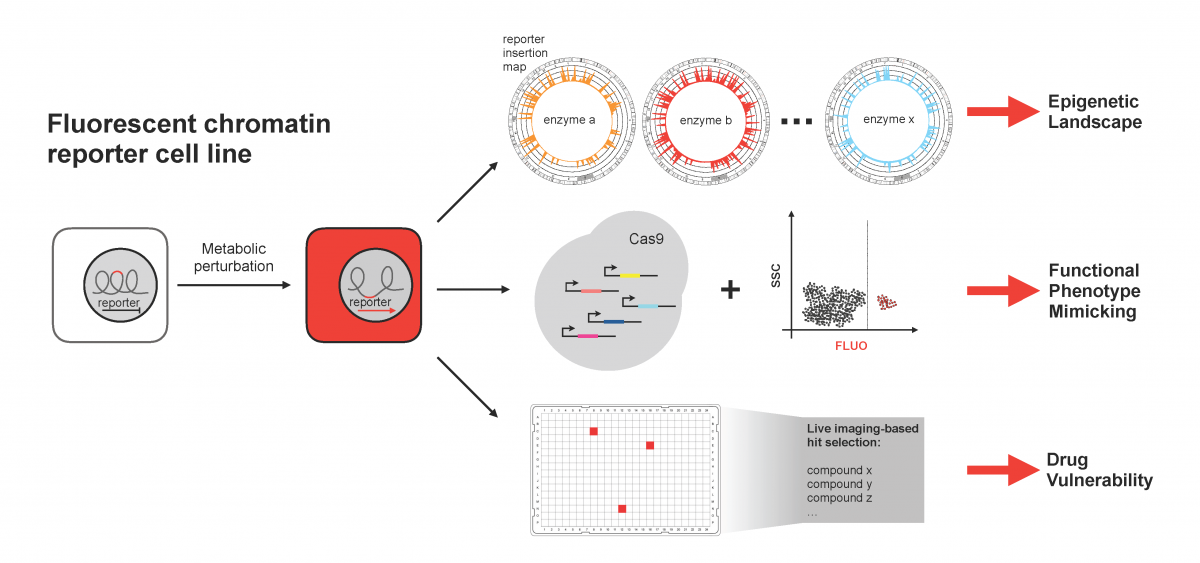 Schematic representation of the general workflow. Fluorescent chromatin reporter cell lines will be generated in order to monitor the activity of metabolic enzymes involved in cancer metabolism rewiring. The fluorescent chromatin reporter cell lines can be used to 1) define the epigenetic landscape of metabolic enzymes, 2) identify functional partners of metabolic enzymes and 3) discover small molecules functionally inhibiting metabolic enzymes.
Group Leader