Career Coaching
Together with the other CRG training activities, this initiative is dedicated to developing and promoting the careers of our residents. A wide range of courses on scientific and soft skills are offered to boost their careers and allow them to explore various future career options.
Basics of statistical testing
Applied Training in Advanced Light Microscopy and Imaging
Hands-on Galaxy tutorial
Scientific poster design
Lab Management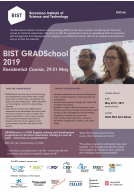 29/05/2019 - 09:00
31/05/2019 - 18:30
"GRAD School" for doctoral researchers The course "GRAD School" for doctoral researchers has been exclusively designed to offer the 2nd and 3rd year PhD students the opportunity to focus on developing skills for successful self-management and...