Transferable Skills
Together with the other CRG training activities, this initiative is dedicated to developing and promoting the careers of our residents. A wide range of courses on scientific and soft skills are offered to boost their careers and allow them to explore various future career options.
Basics of statistical testing
Applied Training in Advanced Light Microscopy and Imaging
Hands-on Galaxy tutorial
Scientific poster design
Lab Management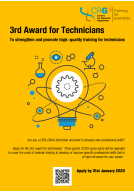 The CRG is committed to strengthen and promote high-quality training for technicians, in the laboratories and at core facilities. This call aims to provide the CRG (including CNAG-CRG) technicians with additional opportunities to undertake training...

04/03/2020 - 09:00
06/03/2020 - 18:00
Leadership in Action is a three day; activity based; residential training course.  Working in the Montserrat Hotel and Training Center, will practice your leadership skills and gain an insight into leadership theory.  Working with PostDoctoral staff...