Courses@CRG
Courses@CRG is a CRG flagship training initiative. This programme brings international experts in the field to teach at the centre, and attracts students from Barcelona, Spain and all over the world. The aim of Courses @ CRG is to address particular training needs.  Each course programme includes theoretical lectures and hands-on sessions and enables participants to acquire new skills and/or knowledge, either specific to a field or interdisciplinary in nature. They mainly focus on delivery of content together with interaction and discussion between the participants, speakers and instructors. 
Below you will find the list of forthcoming courses.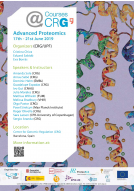 17/06/2019 - 09:00
21/06/2019 - 17:00
Description The "Courses@CRG: Advanced proteomics course" targets international postdocs and students and aims to provide an extensive update on the most advanced proteomics techniques and applications. The target audience includes PhD students and...
17/09/2019 - 10:00
20/09/2019 - 18:00
The event bringing together the Nextflow community, big data scientists and cloud experts Dates:              Nextflow Training: 17th – 18th September 2019 Nextflow Camp: 19th -20th September 2019 Create. Deploy. Share. Nextflow is a popular...