Courses@CRG
Courses@CRG is a CRG flagship training initiative. This programme brings international experts in the field to teach at the centre, and attracts students from Barcelona, Spain and all over the world. The aim of Courses @ CRG is to address particular training needs.  Each course programme includes theoretical lectures and hands-on sessions and enables participants to acquire new skills and/or knowledge, either specific to a field or interdisciplinary in nature. They mainly focus on delivery of content together with interaction and discussion between the participants, speakers and instructors. 
Below you will find the list of forthcoming courses.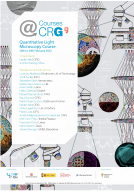 20/02/2023 - 09:00
24/02/2023 - 18:00
Description  This five-day comprehensive and intensive course covers the entire spectrum of bioimaging, starting from the fundamental basis of optical microscopy, instrumentation, specimen preparation, molecular markers, right up to the most recent...