Roni Helene Grace Wright
Beato Lab
Group page

Research lines

Publications

https://orcid.org/0000-0002-8194-4614
Short CV
2021 – Staff Scientist, Miguel Beato Lab, Centre Genomic Regulation (CRG), Barcelona (Spain)
2018 – Collaborating Professor, Health Sciences, Universitat International de Catalunya (UIC), Barcelona (Spain)
2009 – Postdoc, Miguel Beato Lab, Centre Genomic Regulation (CRG), Barcelona (Spain)
2009 – PhD Molecular Biology, University of Glasgow, Scotland (UK)
2006 – B.Sc. (hons), Biochemistry and Immunology, University of Strathclyde, Scotland (UK)
Summary
Despite global research efforts, breast cancer remains the leading cause of cancer death in women worldwide. The majority of these deaths are due to metastasis occurring years after the initial treatment of the primary tumor and occurs at a higher frequency in hormone receptor (Estrogen and Progesterone; HR+) positive breast cancers.
We have previously described the role of NUDT5 (Nudix-linked to moiety X-5) in HR+ breast cancer progression, specifically with regards to the growth of breast cancer stem cells (BCSCs). BCSCs are known to be the initiators of epithelial to mesenchyme transition (EMT), metastatic colonization and growth. Therefore, a greater understanding of the proteins and signaling pathways involved in the metastatic process may open the door for therapeutic opportunities.
My research focuses on understanding the mechanism of NUDT5 activation, analyzing signaling pathways and global gene expression datasets in 3D cell culture as a model for BCSCs. With the hope that this experimental approach may provide insight into novel crosstalk mechanisms for future drug discovery projects aiming to treat patients with aggressive cancer.
https://www.linkedin.com/in/roni-wright-she-her-206a00a?originalSubdomai...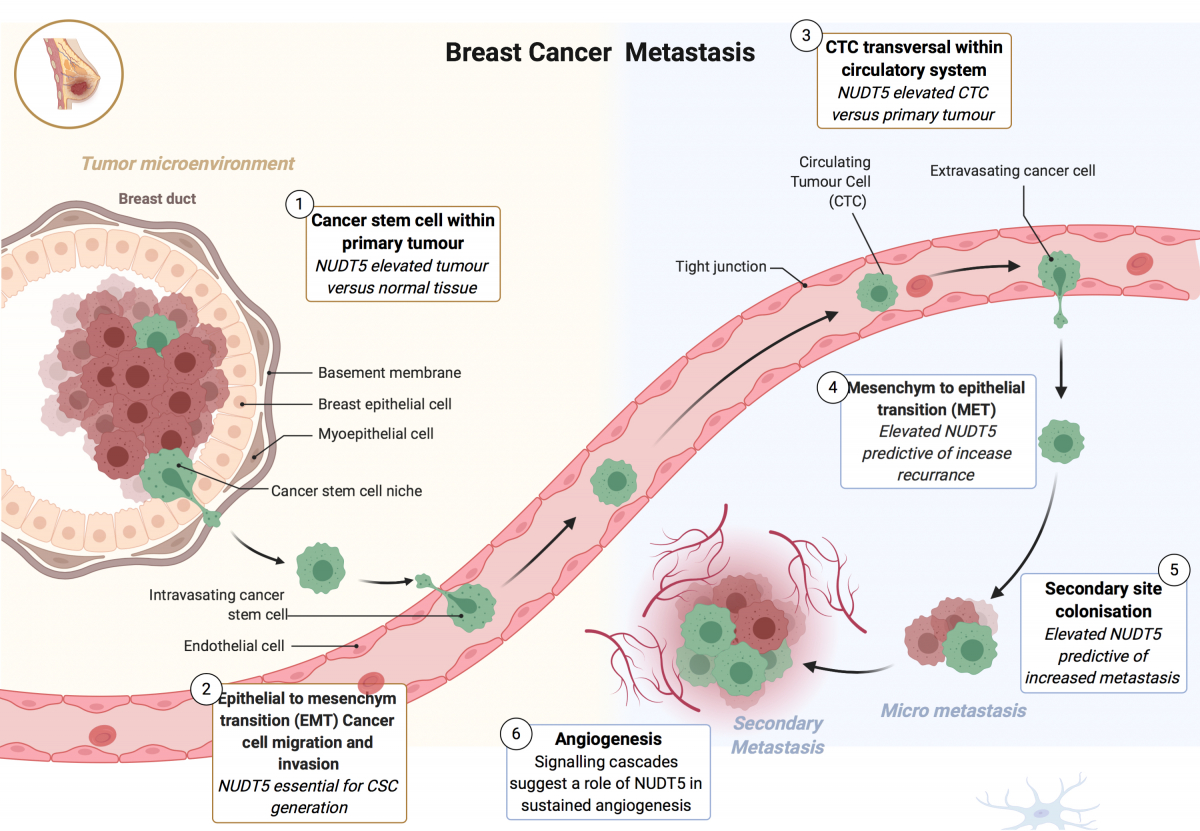 Novel inhibitors of NUDT5
In collaboration with the CNIO in Madrid this line of research aims to identify and test for specific inhibitors of NUDT5 inhibiting only the ATP generating activity of the enzyme. (Page et al 2019, Pickup et al 2019).
PARP1 localization on chromatin
Poly-ADP-ribose polymerase 1 (PARP1) is a nuclear enzyme which synthesies poly-ADP-ribose (PAR) in the nucleus of breast cancer cells in response to hormone (Wright et al 2012, 2016). This synthesis of PAR is required and used by NUDT5 for ATP synthesis. This line of research focuses on understanding the exact localization of PARP1 on chromatin using ChIP-seq to understand if the location of PARP1 and NUDT5 on chromatin may play an important role in the organization of the nucleus and gene expression changes induced by hormone.
Role of Nuclear ATP in Phase Separation
Misregulation of the processes controlling eukaryotic gene expression can result in disease. Gene expression is influenced by the surrounding chromatin; hence the nuclear environment is also of vital importance. Recently, understanding of chromatin hierarchical folding has increased together with the discovery of membrane-less organelles which are distinct, dynamic liquid droplets that merge and expand within the nucleus. These 'sieve'-like regions may compartmentalize and separate functionally distinct regions of chromatin.
This work focuses on understanding the possible role of poly(ADP-ribose), ATP, and Mg2+ levels, in phase separation and genome regulation. (Wright et al 2019)
Global Signalling Network in Breast Cancer
Breast cancer cells enter into the cell cycle following progestin exposure by the activation of signalling cascades involving a plethora of enzymes, transcription factors and co-factors that transmit the external signal from the cell membrane to chromatin, ultimately leading to a change of the gene expression program. Although many of the events within the signalling network have been described in isolation, how they globally team up to generate the final cell response is unclear. This line of research focuses on combining antibody microarrays and global phosphoproteomics to provide a dynamic global signalling map that may reveal new key regulated proteins and links between previously known and novel pathways. (Wright et al 2020)
Role of NUDT5 and PARP in Ovarian Cancer
PARP1 and NUDT5 are overexpressed in ovarian cancer patient datasets. Indeed stratifying patients based on the levels of these two enzymes is predictive of a poor overall survival and increased risk of metastasis in patients. PARP1 inhibitors are in use in the clinic for the management of ovarian cancer patients. This line of research focuses on the investigation of the role of NUDT5 in ovarian cancer cell lines using 3D cell culture to enrich for the cancer stem cell population. The aim is that any insight or role for NUDT5 in OCSC may provide new avenues for future drug combinations with PARP1 inhibitors for the treatment of aggressive disease.
Role of NUDT5 in metakaryotic cells
In collaboration with MIT. Metakaryotic cells were first discovered in MIT in 2003. These cells have hollow bell shaped nuclei appended to rather than enclosed in the cytoplasm. Their "chromosomes" appear to be continuous, joined at telomeres. These cells display "stemness", an essential characteristic of a stem cell that distinguishes it from ordinary cells.
This stem capacity of metakaryotic cells, sparked this collaboration  as we showed that CSCs require nuclear ATP generation via the PARP-NUDT5 pathway to maintain their stem expression profile and self-renew. CSCs have been identified in the majority of solid and hematologic cancers, as well as shown to be the initiators of tumor proliferation, metastatic dissemination and colonization. We hope that understanding the underlying pathways involved in CSC, specifically within the unique metakaryotic structure in more detail will open up new areas for drug discovery projects for aggressive cancers.