Science
Together with the other CRG training activities, this initiative is dedicated to developing and promoting the careers of our residents. A wide range of courses on scientific and soft skills are offered to boost their careers and allow them to explore various future career options.
Basics of statistical testing
Applied Training in Advanced Light Microscopy and Imaging
Hands-on Galaxy tutorial
Scientific poster design
Lab Management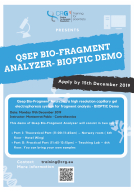 Instructor: Montserrat Pablo - Controltecnica Date: 19th December 2019 - 11:00-13:15 This demo of Qsep Bio-Fragment Analyzer will consist in two parts: Part I: Theoretical Part (11:00-11:45am) – Norway room ( 6th floor - Hotel Wing) Part II:...