Advanced Light Microscopy Unit
Advanced Light Microscopy Unit
Advanced Light Microscopy Unit
Advanced Light Microscopy Unit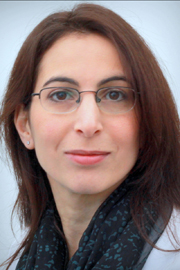 https://orcid.org/0000-0003-0613-2365
Overview
It is the aim of this unit to provide instruments covering the whole application spectrum of advanced light microscopy and to make them available to researchers from the CRG as well as for visitors from other research institutions.
As Core Facility for light microscopy, the unit provides a number of advanced light microscopy systems, equipment for sample preparation and maintenance prior to imaging and resources for the subsequent processing of the image data.
The staff assists researchers in the experimental planning of light microscopy experiments and provides the in-depth training for the operation of the microscopes and for specific imaging techniques. Additionally, support is provided in the processing, rendering and analysis of the acquired datasets. If needed, custom analysis routines will be designed.
Latest Updates
Two new new major experimental facilities announced for the ALBA synchrotron (09/04/2020)
The ALBA Synchrotron will host two new major experimental facilities, one dedicated to materials science, valued at 4.1 million euros and led by the Catalan Institute of Nanoscience and Nanotechnology (ICN2), and another meant for molecular biology, valued at 1.7 million euros and headed by the Institute of Molecular Biology of Barcelona (IBMB-CSIC).
Nadia Halidi CV
February 2021  Head of the Advanced Light Microscopy Unit, CRG, Barcelona, Spain.
2018 - 2021      Assistant manager, then manager of Micron Oxford Advanced Bioimaging Unit, University of Oxford, Oxford, UK. 
2017 - 2018      Postdoctoral researcher and imaging facility manager at the Botnar Research Center, University of Oxford, Oxford, UK.
2011 - 2015      Postdoctoral fellow at the Dept. of Cell Biology, Harvard Medical School, Boston, MA, USA.
2007 - 2011      PhD in Biophysics, École Polytechnique Fédérale de Lausanne (EPFL), Lausanne, Switzerland.  
2005                    Teaching assistant at the Kalamazoo College, Kalamazoo, MI, USA.
2002 - 2006      Research and teaching assistant at the Dept. of Biophysics, University of Pécs, Pécs, Hungary.
How to access / Instrument Booking
The Advanced Light Microscopy Unit (ALMU) is open to the research community from within CRG, the PRBB, and beyond. ALMU houses a range of state-of-the-art microscopes, from widefield, confocal to super-resolution systems. We offer training, instrumentation, and support for experimental design, sample preparation, data analysis, and visualization to the highest standards. 
To request access and training, please read our Access Policy. 
For existing users, all our resources can be booked through our booking system AGENDO: http://crg.agendo.science
ALMU Access Policy
ALMU COVID guidelines
Service Prices
Services
Consultation and assistance starting from experimental design, sample preparation, imaging and data analysis
Technology training on the operation of the unit's microscope systems
Support for experiments requiring advanced imaging methods
User access to state-of-the-art microscopy systems
Image data analysis 
Equipment
The equipment offer is available to trained users and covers all current imaging applications with high-end imaging systems.
Super-resolution microscopy
Leica confocal STED 3X FLIM system with white light laser and three depletion wavelengths (592nm CW, 660nm CW, 775nm pulsed)
Zeiss LSM 980 with airyscan 2 (405, 488, 561 and 639 nm lasers)
Leica confocal CW STED super-resolution microscope with 592 nm CW depletion wavelength
Leica Ground State Depletion (GSD) microscope system (488 nm, 532 nm, 647 nm, 405 nm backpumping)
Nikon N-STORM (405nm, 488nm, 561nm, 647 nm lasers)
Multiphoton microscopy
Leica inverted confocal/multiphoton system (405, Argon ion, 561, 633nm and Mai Tai DeepSee)
Leica upright confocal/multiphoton system (405, Argon ion, 543, 633nm and Mai Tai DeepSee)
Confocal Microscopy
Leica inverted confocal system (405, 458,476,488,496,514,561 and 633 nm lasers)
Leica inverted confocal system for live-cell imaging (458,476,488,514,543 and 633 nm lasers)
Andor Dragonfly Spinning Disk confocal system (Borealis illumination, 488 and 561 nm lasers)
Andor Revolution XD Spinning Disk confocal microscope (405, 445, 488, 514, 561 nm lasers)
Widefield Microscopy
Zeiss Cell Observer fluorescence microscope for live-cell imaging
Olympus MVX10 Macro Zoom fluorescence microscope
Screening Microscopy
Molecular Devices ImageXpress Micro Purchase year: 2009
Computer resources
AQUIFER HIVE for image processing and analysis
2 workstations for image processing
Workstations and Software packages
Analysis workstations and AQUIFER HIVE for image processing and analysis
Open source software: ImageJ/Fiji, Cel Profiler, Advanced Cell Classifier
SVI Huygens Deconvolution software
Bitplane Imaris 3D and 4D imaging software
No resources available at the moment.