Advanced Light Microscopy Unit
Advanced Light Microscopy Unit
Advanced Light Microscopy Unit
Advanced Light Microscopy Unit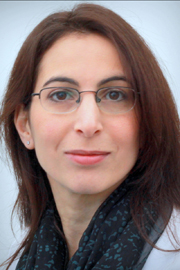 https://orcid.org/0000-0003-0613-2365
Overview
The Advanced Light Microscopy Unit (ALMU) is a walk-in core unit on a mission to help, support and educate the research community from CRG and beyond to do quantitative bioimaging. We provide support on a range of technologies starting from experimental design, sample preparation, acquisition, bioimage analysis and visualization.
Our unit consists of microscope systems specifically designed for fluorescence microscopy ranging from confocal, widefield to super-resolution systems and helps reveal structures from macro to the nanoscale. Click on the services tab to learn moreabout our support and how to gain access to our instruments.
You can learn more about the unit by taking the virtual tour HERE.
Latest Updates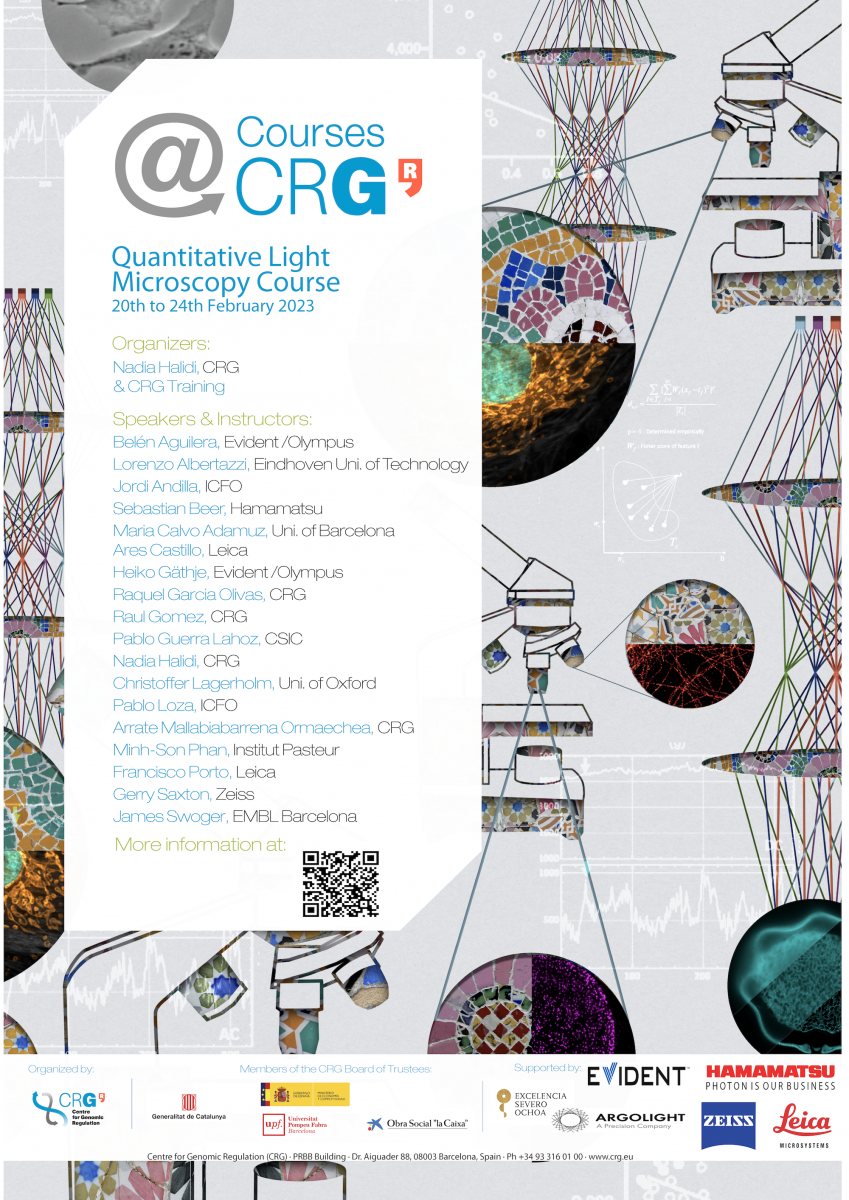 Quantitative Light Microscopy Course (20-24/02/2023)
ALMU together with the CRG training team is organizing the very first Quantitative LightMicroscopy Course. This unique course covers the entire spectrum of bioimaging, starting from the fundamental basis of optical microscopy, instrumentation, specimen preparation, molecular markers, right up to the most recent and revolutionary development in bioimaging and bioimage data analysis, including artificial intelligence in microscopy. For more information follow the link here.
IXplore SpinSR workshop with Evident/Olympus (04/05/2022)
ALMU hosted the IXplore SpinSR workshop that presented the latest advances in multi-modal confocal spinning disk imaging of live cells and tissues in super-resolution mode.
May 4: Virtual seminar covering the IXplore SpinSR system capabilities and highlighting the super-resolution technology. Followed by a virtual live demo of the system.
May 5 - May 18: Hands-on demo with researcher's own samples.
CRG at the Dubai Expo Spain Pavilion (03/2022)
Nadia Halidi has joined forces with Neoalgae, an Austrian biotechnology company, and The Others TV, an animation studio based in Barcelona to showcase the potential of microalgae as a sustainable future solution. The movies were acquired with a high-speed camera using darkfield microscopy with components provided specifically for this project by Carl Zeiss Iberia S.L. The production was showcased in the Spain Pavilion at the Expo 2020 Dubai from October 2021 to March 2022.
Nadia Halidi CV
February 2021  Head of the Advanced Light Microscopy Unit, CRG, Barcelona, Spain.
2018 - 2021      Assistant manager, then manager of Micron Oxford Advanced Bioimaging Unit, University of Oxford, Oxford, UK. 
2017 - 2018      Postdoctoral researcher and imaging facility manager at the Botnar Research Center, University of Oxford, Oxford, UK.
2011 - 2015      Postdoctoral fellow at the Dept. of Cell Biology, Harvard Medical School, Boston, MA, USA.
2007 - 2011      PhD in Biophysics, École Polytechnique Fédérale de Lausanne (EPFL), Lausanne, Switzerland.  
2005                    Teaching assistant at the Kalamazoo College, Kalamazoo, MI, USA.
2002 - 2006      Research and teaching assistant at the Dept. of Biophysics, University of Pécs, Pécs, Hungary.
Services
Consultation and assistance starting from experimental design, sample preparation, imaging, and data analysis
Technology training on the operation of the unit's microscope systems
Support for experiments requiring advanced imaging methods
User access to state-of-the-art microscopy systems
User access to analysis workstations
Image data analysis services
How to access / Instrument Booking
The Advanced Light Microscopy Unit (ALMU) is open to the research community from within CRG, the PRBB, and beyond. ALMU houses a range of state-of-the-art microscopes, from widefield, confocal to super-resolution systems. We offer training, instrumentation, and support for experimental design, sample preparation, data analysis, and visualization to the highest standards. 
To request access and training, please read our Access Policy. Due to the high demand and to ensure that the training goes smoothly, please contact us 1-2 weeks in advance.
For existing users, all our resources can be booked through our booking system AGENDO: https://crg.agendoscience.com/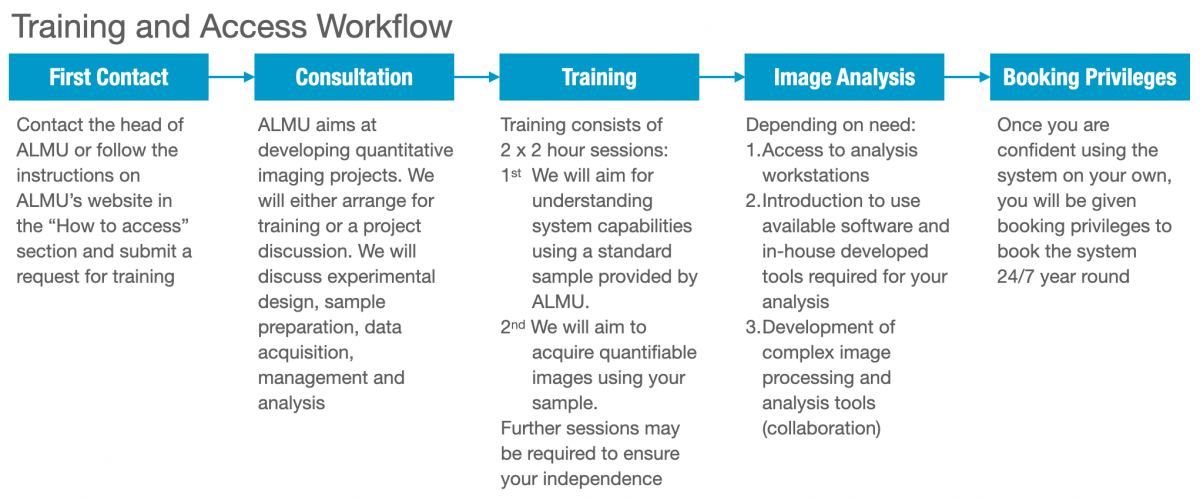 Service Prices
Equipment
The equipment offer is available to trained users and covers all current imaging applications with high-end imaging systems.
Super-resolution microscopy
Leica confocal STED 3X FALCON system with white light laser (WLL) and three depletion wavelengths (WLL: 470 - 670 nm, 592nm CW, 660nm CW, 775nm pulsed)
Nikon N-STORM (405nm, 488nm, 561nm, 647 nm lasers)
Zeiss LSM 980 with airyscan 2 (405, 488, 561, 639 nm lasers)
Leica confocal CW STED super-resolution microscope with 592 nm CW depletion wavelength
Leica Ground State Depletion (GSD) microscope system (488 nm, 532 nm, 647 nm, 405 nm backpumping)
Multiphoton microscopy
Leica inverted confocal/multiphoton system (405, Argon ion, 561, 633nm and Mai Tai DeepSee)
Leica upright confocal/multiphoton system (405, Argon ion, 543, 633nm and Mai Tai DeepSee)
Confocal Microscopy
Leica STELLAIRS confocal system with white light laser ( WLL: 485 - 685, also 405, 488, 561 nm lasers)
Leica inverted confocal system (405, 458,476,488,496,514,561 and 633 nm lasers)
Leica inverted confocal system for live-cell imaging (458,476,488,514,543 and 633 nm lasers)
Andor Dragonfly Spinning Disk confocal system (Borealis illumination, 488 and 561 nm lasers)
Andor Revolution XD Spinning Disk confocal microscope (405, 445, 488, 514, 561 nm lasers)
Widefield Microscopy
Zeiss Cell Observer fluorescence microscope for live-cell imaging
Olympus MVX10 Macro Zoom fluorescence microscope
Screening Microscopy
Molecular Devices ImageXpress Micro Purchase year: 2009
Computer resources
AQUIFER HIVE for image processing and analysis
2 workstations for image processing
Workstations and Software packages
Analysis workstations and AQUIFER HIVE for image processing and analysis
Open source software: ImageJ/Fiji, Cel Profiler, Advanced Cell Classifier
SVI Huygens Deconvolution software
Bitplane Imaris 3D and 4D imaging software
Head of unit