Postdoctoral Community
The diverse and international postdoc community at the CRG has around 100 members. Activities for postdocs at the CRG include an annual retreat and symposium, mock interviews as training for future job applications, and additional events promoted and organised together with the PhD Community, such as the Career Fair.
CRG Postdoctoral Symposium
The CRG postdoc symposium has become an annual tradition. The whole CRG postdoc community makes an effort to put together a day of scientific exchange where postdocs from the different CRG programmes take the opportunity to present their work. Although the format of the symposium has changed several times over the years, the main component is still the same. The greatest number of talks are by postdoc fellows, and there are presentations by guest speakers.
The whole CRG postdoc community will be very happy to share this day with all of you.
VIII CRG Postdoctoral Symposium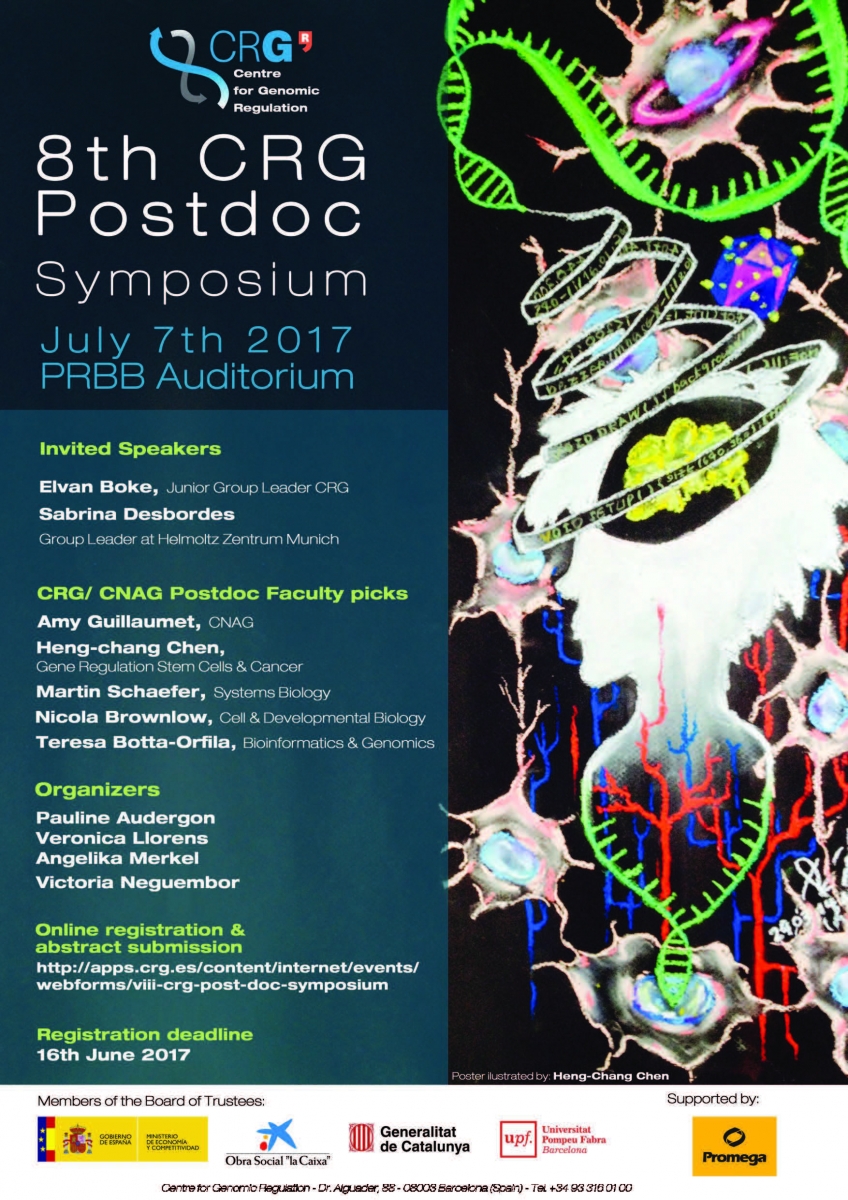 Organizers: 
Pauline Audergon, Veronica Llorens, Angelika Merkel & Victoria Neguembor.
Invited Speakers:
- Elvan Boke, Junior Group Leader CRG, Barcelona
- Sabrina Desbordes, CRG Alumni, Group Leader at Helmoltz Zentrum Munich - Germany
CRG/CNAG Postdoc Faculty picks:
- Amy Guillaumet, CNAG
- Heng-chang Chen, Gene Regulation Stem Cells and Cancer
- Martin Schaefer, Systems Biology
- Nicola Brownlow, Cell and Developmental Biology
- Teresa Botta-Orfila, Bioinformatics and Genomics
Registration and abstract submission deadline: June 16th, 2017
Online registration and abstract submission (for long & flash talks)
Venue
PRBB Auditorium
CRG - Centre for Genomic Regulation
Dr. Aiguader, 88
08003 Barcelona, Spain
www.crg.eu
Contact
Anna Solé Amat
CRG - Centre for Genomic Regulation
Dr. Aiguader, 88
08003 Barcelona, Spain
Supported by: