Postdoctoral Community
The diverse and international postdoc community at the CRG has around 100 members. Activities for postdocs at the CRG include an annual retreat and symposium, mock interviews as training for future job applications, and additional events promoted and organised together with the PhD Community, such as the Career Fair.
CRG postdocs are supported by internal and external funding, including from EMBO, HFSP, DFG, FEBS, Marie Curie Actions, Spanish Ministry of Economy and Knowledge (MINECO) and Catalan Agency for University and Research Grants (AGAUR). 
The community is represented by 5 postdocs that are responsible for communicating the ideas/concerns of the students to the CRG Postdoc Committee and to the Postdoctoral Community.
The current Postdoctoral representatives are:
Antoni Beltran Marques
Olga Dolgova
Marion Salzer
Marie Christou-Kent
Veronica Miro Pina
You can contact them on: CRGPostdocRepresentatives@crg.eu
CRG Postdoctoral Symposium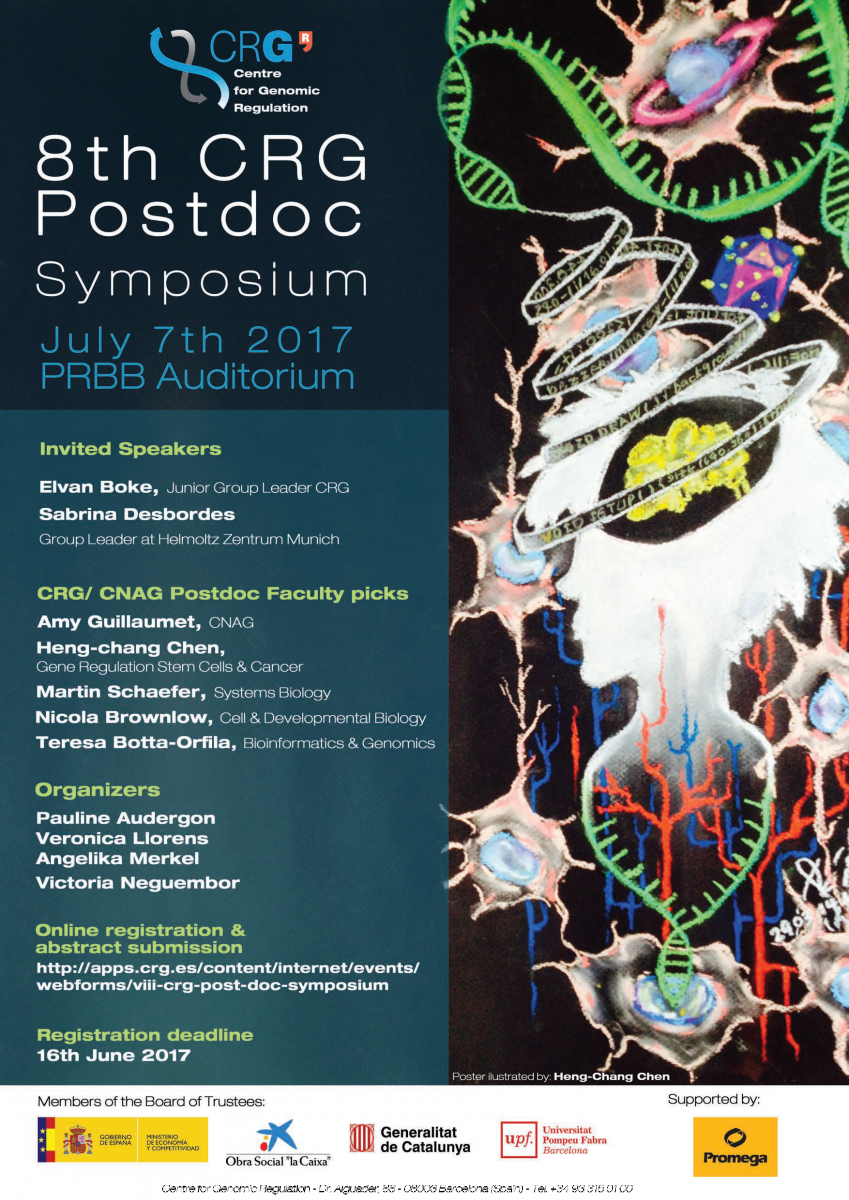 The CRG postdoc symposium has become an annual tradition. The whole CRG postdoc community makes an effort to put together a day of scientific exchange where postdocs from the different CRG programmes take the opportunity to present their work. Although the format of the symposium has changed several times over the years, the main component is still the same. The greatest number of talks are by postdoc fellows, and there are presentations by guest speakers.
The whole CRG postdoc community will be very happy to share this day with all of you.
Previous editions
2017 - VIII CRG Postdoctoral Symposium
2016 - VII CRG Postdoctoral Symposium
2015 - VI CRG Postdoctoral Symposium
2014 - V CRG Postdoctoral Symposium
2013 - IV CRG Postdoctoral Symposium
2012 - III CRG Postdoc Symposium
2011 - II CRG Postdoc Symposium: "Proteins vs RNAs in Gene Regulation: A Fight with no Rules"
2010 - I CRG Postdoc Symposium