1st CRG Postdoc Symposium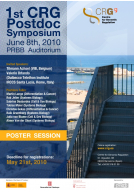 1st CRG Postdoc Symposium
Organizers: CRG Postdoc Committee

Symposium overview
The CRG Postdoc community organized this symposium aiming to reflect the work achieved by CRG Postdocs that will be illustrated by both oral and poster presentations. Together with the talks of the invited speakers, this symposium will be a day for sharing scientific knowledge and bridging interdisciplinary projects.
Invited speakers
Tilmann Achsel (VIB, Belgium)
Valerio Orlando (Dulbecco Telethon Institute, IRCCS Santa Lucia, Rome, Italy)
Postocs Talks
Rob Jelier (Systems Biology Programme)
Sabrina Desbordes (Cell & Developmental Biology Programme)
Tobias Maier (Systems Biology Programme)
Christos Gekas (Differentiation & Cancer Programme)
Raik Gruenberg (Systems Biology Programme)
Julia von Blume (Cell & Developmental Biology Programme)
Almer Van der Sloot (Systems Biology Programme)
Poster Session
Posters will be selected from abstracts. If you are interested in presenting a poster, please send your abstract to Imma Falero.
Venue
PRBB Auditorium
CRG - Centre for Genomic Regulation
Dr. Aiguader, 88
08003 Barcelona, Spain
www.crg.es
Registration
Participation to the symposium is free of charge and open to all the scientific community, but it is necessary to register. Participants should use the link on the right framework of this page for registration.
Deadline for registrations: May 21st, 2010
Contact person
Imma Falero
Academic Officer
CRG - Centre for Genomic Regulation
Dr. Aiguader, 88
08003 Barcelona, Spain
Tel. +34 93 316 01 48
Fax +34 93 316 00 99