IV CRG Postdoctoral Symposium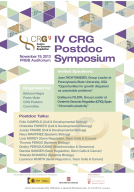 IV CRG Postdoctoral Symposium
Organized by: Bàrbara Negre, Pedro Vizán, CRG Postdoc Committee
Symposium overview
The CRG Postdoc community organizes this symposium aiming to reflect the work achieved by CRG Postdocs. Together with the talks of the invited speakers, the symposium helps foster scientific and social interaction among postdoctoral researchers, graduate students, and faculty.
Invited speakers
Joan Richtsmeier, Group Leader at Pennsylvania State University, USA
"Opportunities for growth disguised as unsolvable problems"
Guillaume Filion, Group Leader at Center for Genomic Regulation, CRG
"Chromatin plasticity"
Postocs Talks
CAMPELO, Felix  (Cell & Developmental Biology)
FORESTI, Ombretta  (Cell & Developmental Biology)
FRAIRE, Juanjo  (Cell & Dev. Biology)
MARTÍNEZ, Neus  (Systems Biology)
MOREY, Lluís (Gene Regulation, Stem Cells & Cancer)
PENGO, Thomas (Systems Biology)
PERVOUCHINE, Dmitry (Bioinformatics & Genomics)
SANGES, Daniela  (Gene Regulation, Stem Cells & Cancer)
SCHAERLI, Yolanda (Systems Biology)
WURTH, Laurence   (Gene Regulation, Stem Cells & Cancer)
Venue
PRBB Auditorium
CRG - Centre for Genomic Regulation
Dr. Aiguader, 88
08003 Barcelona, Spain
www.crg.eu
Contact person
Imma Falero
Academic Officer
CRG - Centre for Genomic Regulation
Dr. Aiguader, 88
08003 Barcelona, Spain