Envision Your Research Future – How to choose a lab for your PhD & CRG Opportunities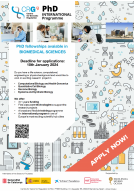 Envision Your Research Future – How to choose a lab for your PhD & CRG Opportunities
Join us in this interactive online workshop from the Centre for Genomic Regulation
Are you passionate about research? Curious about pursuing a Doctorate degree? Look no further! In this workshop, we will:
Learn valuable tips for successful applications and the essential factors to consider when searching for your ideal PhD position.
Discuss funding opportunities to support your academic pursuit.
Gaining insights into our CRG International Doctoral Programme.
Learn about CRG PhD Opportunities available
Mark your calendars:
Date: Friday 15th December 2023
Time:
3pm - 4.30pm CET
Location:
On-line
Register now HERE and take the first step towards an extraordinary research career.