Mass COVID-19 testing across Cataluña
Mass COVID-19 testing across Cataluña
Mass COVID-19 testing across Cataluña
The Centre for Genomic Regulation (CRG) is coordinating a task force with the Institute for Research in Biomedicine (IRB Barcelona) and the Institute for Bioengineering of Catalonia (IBEC), as requested by Government of Catalonia, to set up mass testing for citizens to stop the spread of the new coronavirus outbreak.
There are two mass testing sites – one coordinated by the CRG at its labs at the Barcelona Biomedical Research Park (PRBB) and another at the Parc Cientific de Barcelona, jointly coordinated by IRB Barcelona, IBEC and the Centro Nacional de Análisis Genómico (CNAG-CRG), part of the CRG.
The project, codenamed Programa Orfeu by the Generalitat de Catalunya, aims to run a total of 170 thousand tests in its first phase, which will last between April and the end of May.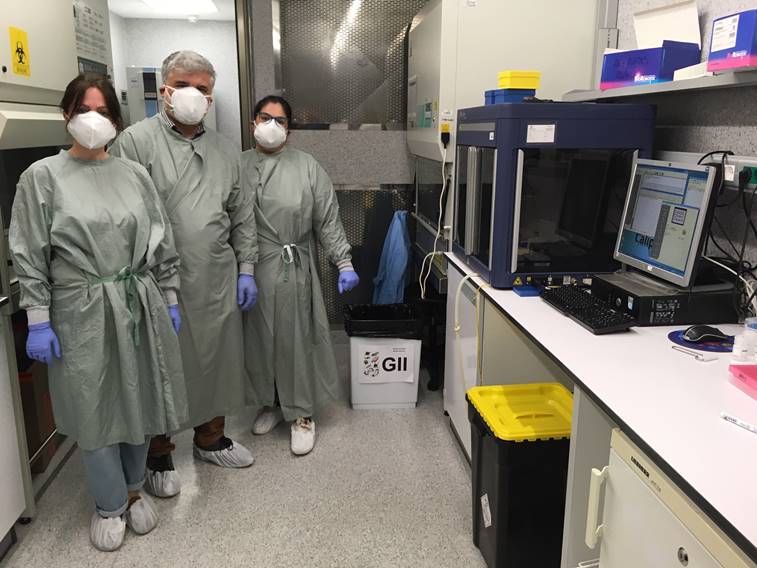 Volunteers Leonor Ávila, Carlo Carolis and Anna Puig finishing the first set of RNA isolations successfully on 19th April.
The mass testing sites will be used to detect infected people both during the lockdown and as measures are progressively relaxed. This will allow citizens to better isolate the sick, lower infection rates, let essential workers get back to work and save lives.
The CRG is working seven days a week to conduct 100,000 tests during a six-week period in its labs thanks to its regular PCR capabilities, as well as the addition of a next-generation sequencing robot with a capacity to run 8000 samples per day. Only four of these robots currently exist in Europe. The site at the Parc Cientific de Barcelona will carry out 70,000 tests over the same time period.
We are using real-time PCR (RT-PCR) to look for the presence of coronavirus genetic material in samples. The tests have been compared and verified to meet the national standard set by Spanish hospitals, as well as those in Europe, the United States, Israel and further afield.
Related press release on the launch of the programme (07/04/2020): Catalan research labs repurposed for mass COVID-19 testing service
With the kind collaboration of: