TBDO Sessions Dr. Antonio Gómez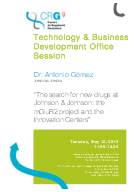 TBDO Sessions Dr. Antonio Gómez
12/05/201511:00MARIE CURIETBDO SessionsDr. Antonio GómezJohnson & Johnson"The search for new drugs at Johnson & Johnson: the mGluR2 project and the Innovation Centers"Abstract:Dr Antonio Gomez earned a PhD from the University of Salamanca in the field of Hemisynthesis of Natural Products in 1997. Joined Janssen-Cilag S.A. in Toledo in 1996, initially as a medicinal chemist. Then moved to Janssen Pharmaceutica in Belgium in 1999-2000 to work in the Department of Research Support. Back in Toledo he has held various positions as Project coordinator and scientific IP coordinator. Since 2012 he is in charge of external collaborations for the Toledo site. With the launch of the Innovation Center Initiative his role evolved into Liaison for Spain of the J&J Innovation Center.
The Seminar will consist of:
PART 1. THE JOHNSON & JOHNSON APPROACH TO EXTERNAL COLLABORATIONS: THE INNOVATION CENTERS
The first part of the talk will focus on the J&J Innovation Centers: why they were created in the first place, what they are, the type of collaborations they are looking for and the areas where they are active.
PART 2. JNJ-42153605: A NOVEL POSITIVE ALLOSTERIC MODULATOR OF mGluR2 FOR THE TREATMENT OF CNS DISORDERS
This second part describes the research carried out in the Janssen Pharma R&D sites in Toledo and Beerse (Belgium) looking for positive allosteric inhibitors of the mGluR2 receptor. After a brief description of the rationale for this target in CNS disorders we will see the process starting in the HTS campaign and finishing in the clinical phases.
Host: Pablo Cironi (CRG)