TBDO Sessions Andrés G. Fernández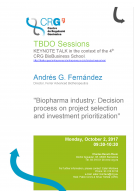 TBDO Sessions Andrés G. Fernández
02/10/201709:30CHARLES DARWINTBDO SessionsAndrés G. FernándezFerrer Advanced Biotherapeutics"Biopharma industry: Decision process on project selection and investment prioritization"Host: Cironi López, PabloAbstract:As Director of Ferrer Advanced Biotherapeutics, the Biotech Research Division of Ferrer International, Andrés G. Fernández and his team work to actively identify and select high added-value biopharmaceutical projects that they help to transform into real products in a variety of therapeutic and diagnostic areas. Previous to his current position, Andrés held a number of executive and scientific responsibilities at Ferrer, Almirall and
Salvat laboratories, where he helped to successfully develop and launch an important number of new molecular entities, drugs and molecular diagnostics products. For some years, Andrés was also Associate Professor of Cell Biology at the Autonomous University of Barcelona.
He studied Pharmacy and obtained his PhD in Pharmacology at the University of Barcelona. At present, Andrés is also the Chair of the Catalan Society of Medical Biotechnology and member of a number of boards (ASEBIO, BIONAND), scientific entities, juries and committees.
This talk will help us all to better understand how biopharma companies select and prioritize their research and development projects, even if early stage