Symposium on Omics Technologies for Personalized Medicine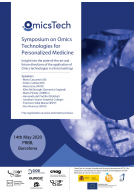 Symposium on Omics Technologies for Personalized Medicine
The 1st OmicsTech Symposium is focused on Omics Technologies for Personalized Medicine and will provide an insight on the state-of-the-art and future directions of the application of Omics technologies in clinical settings.
The Symposium will be held at the PRBB in Barcelona on Thursday May 14th 2020 and is co-organised by the CNAG-CRG, the CRG/UPF Proteomics Unit and the Center for Omics Sciences.
Invited Speakers
Proteomics
- Pedro Cutillas (BCI)
- Alena Gros (VHIO)
- Hernando del Portillo (ISGlobal)
Genomics
- Conchi Lázaro (IDIBELL)
- Ellen McDonagh (Genomics England)
- Ana Vivancos (VHIO)
Metabolomics
- Marta Cascante (UB).
- Jonathan Swann (Imperial College)
- Francisco Vidal Marsal (IISPV)
For further information please visit the Symposium website.