Statistics for Post Genomic Data 2019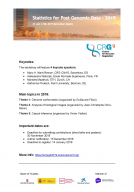 Statistics for Post Genomic Data 2019
PRBB Auditorium, Barcelona, Spain
The 2019 annual workshop on Statistical Methods for Post Genomic Data (SMPGD) will take place at the Center for Genomic Reguation (CRG) in Barcelona on 31 January - 1 February 2019. Its aim is to present works from mathematical to applied statistics, but also new areas in high throughput biology that could need new statistical developments. For more information about the SMPGD conferences, see the official web site.
Registration:
Registration is now closed
Submission:
If you wish to present a poster or a short talk, you need to submit an abstract here. The abstract should be no more than 500 words and should give a description of your research that is possible to understand for non-specialists. Submissions will close on November 30, 2018 at 23:59 pm. The abstract selected for a short talk will be announced on December 15, 2018.
Keynotes:
The workshop will feature 4 keynote speakers :
Marc Marti-Renom (CRG-CNAG, Barcelona)
Aleksandra Walczak (Ecole Normale Supérieure, Paris)
Marloes Maathuis (ETH, Zurich)
Katharina Proksch (Ruhr University, Bochum)
Main topics in 2019:
Theme 1: Genome conformation (organized by Guillaume Filion).
Theme 2: Analysis of biological images (organized by Jean-Christophe Olivo-Marin)
Theme 3: Causal inference (organized by Vivian Viallon).
Venue:
The meeting will take place in the PRBB (Parc Recerca Biomedical Barcelona), in Barcelona. It is located on the site of the olympic port and is easily accessible by metro (5 min walk from the station Port Olímpic). From the airport (El Prat), you can either take a taxi (approximately 35 euros), or take the Aerobus to Placa Catalunya (5.90 euros), walk 5 min to the metro station Urquinaona and go to Port Olímpic (3rd station in the direction La Pau).
Travel information:
Important notice: While personal safety is very high in Barcelona, many visitors report being robbed during their stay. We recommend you to stay with your luggage at all times and pay attention to your belongings when you are in the city center.
There are many hotels around the venue. Guest speakers of the CRG usually stay at the H10 Marina, or at the SB Icaria. There are many cheaper options, but they will usually be further from the site. Be aware that most of the appartements available on AirBnB are illegal. To have a great time in Barcelona, we recommend asking the owner whether they have accreditation to rent to tourists, or checking this web page for more information.
Contact:
I you have any doubt or question, please address them to smpgd2019@sciencesconf.org.
More information: https://smpgd2019.sciencesconf.org/