SmS-CRG Scientific Coffee: Nanoscience, miniature science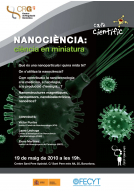 SmS-CRG Scientific Coffee: Nanoscience, miniature science
SCIENTIFIC COFFEE



NANOSCIENCE: MINIATURE SCIENCE

What is a nanoparticle and how big it is? Where is nanoscience used? How does nanotechnology contribute to medicine, to ecology, to energy production...? Magnetic nanostructures, nanosensors, nanobioelectronics, nanoethics?
Let's discuss about nanotechnology with our invited speakers:
Víctor Puntes. Institut Català de Nanotecnologia (ICN)

Laura Lechuga. Centre de Recerca en Nanociència i Nanotecnologia (CIN2)

Elena Martínez. Institut de Bioenginyeria de Catalunya (IBEC)
Date and time: Wednesday, 19th May, 7pm.
Place: Centre Sant Pere Apòstol. C/ Sant Pere més Alt, 25, Barcelona.