RNA - Seq Symposium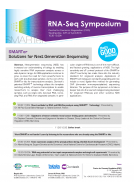 SMARTer
Solutions for Next Generation Sequencing
Abstract
Next-generation sequencing (NGS) has increased our understanding of biology by enabling highly sensitive RNA expression anlysis across a wide dynamic range. As NGS applications continue to grow, so does the need for more powerful tools to work with less-than-ideal samples. As the core of the SMARTer kits for transcriptome analysis, Clontech's patented SMART technology utilizes the template switching activity of reverse transcriptase to enable researchers to anlyze their most challenging samples, such as single cells, low-input RNA, noncoding RNA, and RNA from degraded samples. In particular, single-cell RNA-seq is one of the more difficult, and fastest growing, applications of NGS. The high sensitivity and dT-primed protocol of the SMARTer Ultra Low family has made these kits the industry standard for single-cell analysis. Applications of SMART technology are constanly expanding and now include a novel, ligation-fee method for generating ChIP (chromatin immunoprecipitation) sequencing libraries. The purpose of this symposium is to take a deeper look into the new technologies being developed for single-cell RNA-seq and other sensitive NGS applications.
Speakers
Irit Paz, Takara Clontech, France

Stephan Ossowski, Centre for Genomic Regulation, Barcelona, Spain

Alberto Benguria, National Centre for Cardiovascular Research, Madrid, Spain

María Méndez-Lago, National Centre for Genome Analysis, Barcelona, Spain
Registration
To register, please send an email to Begoña Isla
Venue
AULA room
CRG
Dr. Aiguader 88
08003 Barcelona
How to get to the CRG?
Contact
Laura Prat
Dr. Aiguader 88
08003 Barcelona
 Organized by