Quest for Orthologs 4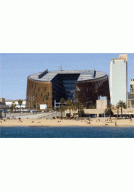 Centre for Genomic Regulation (CRG), Barcelona, Spain
Conference Summary
Proteins and functional modules are evolutionarily conserved even between distantly related species, and allow knowledge transfer between well-characterized model organisms and human. The underlying biological concept is called 'Orthology' and the identifictaion of gene relationships is the basis for comparative studies.
Read more.
Main Organizers: Toni Gabaldón, Christophe Dessimoz, Erik Sonnhammer
Local Organizing Committee: Marina Marcet-Houben, Ernst Thür, Salvador Capella-Gutierrez, Romina Garrido
More info on Registration and Call for abstracts HERE.
Venue
Centre for Genomic Regulation (CRG)
PRBB Building
Dr. Aiguader, 88
08003 Barcelona, Spain
How to get there
Contact
Romina Garrido
Centre for Genomic Regulation (CRG)
Dr. Aiguader, 88
08003 Barcelona, Spain
Tel. +34 93 316 01 10