NEW DATE AND VENUE- Easy Science Conference: The French, Spanish and Catalan Flag Problems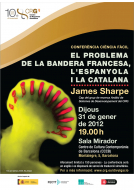 NEW DATE AND VENUE- Easy Science Conference: The French, Spanish and Catalan Flag Problems
NEW DATE AND VENUE: 31ST OF JANUARY, SALA MIRADOR OF THE CCCB.

The French, Spanish and Catalan Flag Problems
Why is it more common to have an extra finger, than an extra arm? The development of multicellular organisms from a single cell is brilliant. During embryonic development the egg divides to give rise to many millions of cells that will shape very different and complex structures. The genetic and dynamic processes that construct our bodies during embryo development have fascinated scientists for centuries, and yet we still don't understand it well. In this talk a fascinating historical debate about how tissues organize themselves will be described, focusing on the example of hand development, how scientists are trying to resolve these questions by combining computer modeling with experimental work, and how this could be useful in the future to the field of tissue regeneration.
James Sharpe is head of the Systems Analysis Development group and coordinator of the Systems Biology program at the CRG. He will address this topics using history and the fascinating aspects discovered while studying how an organism is built.
Date: 31st January 2013
Time: 19:00 h
Place: Sala Mirador, Centre de Cultura Contemporània de Barcelona (CCCB). C. Montalegre, 5, 08001 Barcelona.
Other useful information: Limited seating (150 people). The talk will be in English and there will be simultaneous translation service.
For further information: Juan Manuel Sarasua, juan.sarasua@crg.eu