MARIE CURIE EVENT - BARCELONA 2010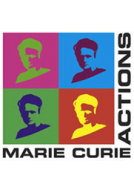 MARIE CURIE EVENT - BARCELONA 2010
Marie Curie Monitoring Action and Information Days
Barcelona, 9-11 june 2010
On 15th of June 2009 the Research Executive Agency took over the management of the Marie Curie Actions among other parts of the Seventh Framework Programme. The Agency aims at delivering efficient and effective services to the research community and supporting diverse European Commission services dealing with research and innovation. By establishing close contact with final beneficiaries and providing a high visibility of the European Union, the REA acts as promoter of the European Research Area (ERA).
The Marie Curie Monitoring Action and Information Days will be held in Barcelona on 9-11 June 2010.
The event will combine monitoring of Marie Curie projects, exchange of views and experiences between Spanish projects and the Projects Officers from the Research Executive Agency, responsible for the implementation of the FP7 People Programme. In addition specific information sessions will be organized by the Spanish National Contact Point for the PEOPLE Programme.
The aim of the monitoring mission is to meet the beneficiaries and the fellow researchers of the Marie Curie Actions to learn about the progress of these projects and to hear about successes and problems. The programme will consist of a series of talks by the beneficiaries who are asked to cover the following aspects of their grant agreements:
• The broad science background
• Experiences of managerial, recruitment and training aspects of the programme
• Major achievements
• Best practices and problems
In addition, a series of poster sessions and oral presentations will be organized. Scientific managers will have also the opportunity to discuss with REA personnel on legal and financial issues related to Marie Curie projects.
Do not lose this chance!!!
Registration
Registration deadline, 1st June 2010
Register here
Contact the registration officer
Marie Curie Monitoring Action & Information Days Office
Ph: +34 93 268 87 97
Fax: +34 93 319 37 68
mariecuriebcn2010@talencia.cat
Venue
Barcelona Biomedical Research Park (PRBB)
&
Centre for Genomic Regulation (CRG)
C/ Dr. Aiguader, 88
08003 Barcelona
www.prbb.org
www.crg.es