Leica International Advanced Confocal Microscopy Course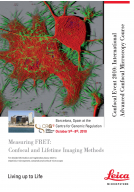 Leica International Advanced Confocal Microscopy Course
In October 2010, Leica Microsystems CMS, Mannheim, Germany again offers to Leica confocal users from all over the world the opportunity to gain technical skills and know-how in advanced confocal microscopy techniques.
This year's course will focus on measuring FRET with confocal and lifetime imaging methods. Leica confocal application experts and highly experienced FRET experts from the Advanced Light Microscopy Unit of the Centre for Genomic Regulation will give insight in confocal and lifetime imaging methods with introductory lectures and will keep a main focus on practical sessions, tips and tricks.
The Leica International Advanced Confocal Microscopy Course 2010 will take place in Barcelona, Spain in cooperation with the Centre of Genomic Regulation from October 05th – 08th, 2010. We will offer applied scientific talks on FRET and FLIM applications and FRET constructs. Introductory talks address FRET and lifetime methods, concepts and theoretical considerations.
The practical sessions will be executed exclusively on Leica TCS SP5 systems with LAS AF user interface. We will concentrate on how to perform experiments, on tips and tricks and hands on. The course is limited to 12 participants. Basic knowledge in confocal microscopy and basic training with LAS AF is a prerequisite for course participation. The course fee is EURO 990.00 (hotel expenses are not included).