International Women's Day 2018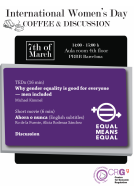 International Women's Day 2018
The CRG Gender Balance Committee is pleased to invite you to the annual celebration of the International Women's Day. Due to the general strike, this year we would like to welcome you on the 7th of March to a coffee session at 2pm, Aula room (4th).
A TEDx talk + short movie were shown and it will be followed by a round-table. The TEDx talk  addresses the importance of male support in the feminism movement. For this reason we encourage men to attend! 
We need unity to achieve equality!
Why gender equality is good for everyone — men included
Michael Kimmel
https://www.ted.com/talks/michael_kimmel_why_gender_equality_is_good_for_everyone_men_included
Ahora o nunca (English subtitles)
Ro de la Fuente, Alicia Rodenas Sánchez
https://www.youtube.com/watch?v=I5WfWmVLx5M