International Men's Day 2018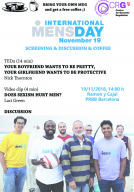 International Men's Day 2018
On 19th of November we organised an event to celebrate the International Men's Day 2018.
To promote gender equality, we showed some videos to raise awareness on how gender stereotypes and sexism affect not only women, but all of us.
The video clips were followed by a general discussion while having a piece of cake and sharing a coffee together.
When? 19th of November, 14:00 h
Where? Ramon y Cajal Room, PRBB