Internal courses: Basics of Biology 2023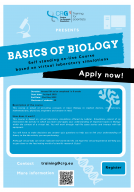 Internal courses: Basics of Biology 2023
This course is aimed at providing concepts in basics Biology to medical doctors, informaticians, mathematicians, physicists, engineers and anyone in need.
This self-paced course is based on virtual laboratory simulations which consist of an interactive lab activity in which you learn and apply your understanding of important topics in Biology within the context of a virtual lab. You will work through real-life cases stories and interact with lab equipment.
Lab simulations work like a story-driven game. As you progress through each scenario, virtual teaching assistant, provides you with information to help you make decisions and answer quiz questions. These questions are interspersed throughout many of the simulations to help you to link you understanding of theory to the lab activity you are performing.
Below each simulation you can read the main learning outcomes and techniques you will practice, as well as a brief introduction and storyline to the simulation.
Although virtual labs can never replicate real-world lab life, we hope this virtual experience will help you to get closer to the fascinating world of scientific research. Enjoy!
Modules content:
Molecular cloning (DNA extraction, ligation, transformation, PCR)
CRISPR-Cas9 
Gene regulation and expression (mRNA, protein expression, qPCR, Next generation Sequencing)
Synthetic Biology (Gateway cloning technique)
Medical genetics (Protein truncation, DNA sequecing, Oncogenes)
Protein synthesis (Protein structure, mass spectrometry)
Regeneration Biology (Stem cells)
Inmunology (Antibodies, immunoassay, COVID)
Microscopy (Light and flourescent)
Basics of Bioinformatics (BLAST, RNA-seq)
Experimental design (Scientific method, hypothesis, controls)
Duration: 16h to be done in 6 weeks
Registration HERE
Apply by: 26th March 2023
Start date: 01/04/2023
End date: 10/05/2023