"Insider's view on the scientific career" - Q&A session for early career scientists on March 10, 2020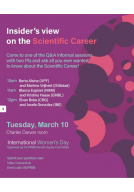 "Insider's view on the scientific career" - Q&A session for early career scientists on March 10, 2020
On the occasion of International Women's Day 2020
Are you a PhD student or postdoc at one of the PRBB centres?
Are you burning with questions, doubts or worries about what lies ahead in your scientific career?
Do you ever wonder how do successful PIs manage to balance their career and personal life? whether it's a good idea to spend some time abroad? what are the most important qualities to succeed as a scientist? what to take into account when choosing your next lab? how to deal with the roller-coaster of emotions of a PhD? how to deal with prejudices or misunderstandings at work? what to look for in a mentor?...
Whatever your questions are, stop wondering, and come next Tuesday March 10, 2020 to one of the three sessions "Insider's view on the scientific career". In each session, two PIs from different centres will sit down with you and, in a friendly and informal setting, tell you how they got where they are, and answer all your doubts!
Feeling shy? You can send some questions in advance, anonymously, through this link: www.sli.do (code 8MPRBB).
The sessions and Principal Investigators of each session are as follows:
10'00-11'00 – Berta Alsina (UPF), Martine Vrijheid (ISGlobal)
11'00-12'00 – Blanca Espinet (IMIM), Kristina Haase (EMBL) 
12'00-13'00 – Elvan Boke (CRG), Pepi Gonzalez (IBE)
All sessions will be in English and will take place at the Charles Darwin room.
This event has been organised by the PRBB Gender Equity Committee, with members of all centres, in commemoration of the International Women's Day. It is open to the whole community and aimed at both male and female early-career scientists. No registration required - just pop by!