EPIC-XS Integrating Proteomics and Genomics Technologies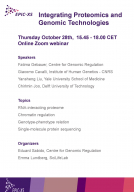 EPIC-XS Integrating Proteomics and Genomics Technologies
The European Proteomics Infrastructure Consortium providing Access (EPIC-XS) consists of a unified network of experienced access providers and research groups who share a common goal: to facilitate the development and sustainability of proteomics exploration to all life science researchers within the European Union. The initiative is coordinated by the Utrecht University.
Integrating Proteomics and Genomics Technologies 
ONLINE | October 28th, 2021. 15:45 - 18:00h
Speakers
Fatima Gebauer, Centre for Genomic Regulation
Giacomo Cavalli, Institute of Human Genetics - CNRS
Yansheng Liu, Yale University School of Medicine
Chirlmin Joo, Delft University of Technology
Yardena Samuels. The Weizmann Institute of Science
Topics
RNA-interacting proteome
Chromatin regulation
Genotype-phenotype relation
Single-molecule protein sequencing
HLA peptides & Immunopeptidomics
Program
Full program will be updated soon. Stay tuned!
Organizers
Eduard Sabido, Centre for Genomic Regulation
Emma Lundberg, SciLifeLab
Previous 2021 Webinars were a great success! Do not miss this event!
For further information, visit the EPIC-XS website and follow EPIC-XS on Twitter.
EPIC-XS has received funding from the European Union's Horizon 2020 research and innovation programme under grant agreement No 823839.