EASY SCIENCE CONFERENCE: Great Ideas of Biology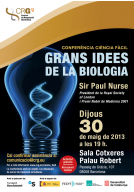 EASY SCIENCE CONFERENCE: Great Ideas of Biology
EASY SCIENCE CONFERENCE: GREAT IDEAS OF BIOLOGY
Three of the ideas of biology are the gene theory, the theory of evolution by natural selection and the proposal that the cell is the fundamental unit of all life.  When considering the question of 'what is life?' these ideas come together, because the special way cells reproduce provides the conditions by which natural selection takes place allowing living organisms to evolve. 
A fourth idea is that the organization of chemistry within the cell provides explanations for life's phenomena.  A new idea is the nature of biological self organization on which living cells and organisms process information and acquire specific forms. 
Sir Paul Nurse, President of the Royal Society of London and winner of the Nobel Prize in Physiology or Medicine in 2001, will discuss how these great ideas have influenced and changed the way we think of science today.
Mr. Antoni Castellà, Secretary for Universities and Research of the Catalan Government will introduce Sir Paul Nurse. 
 
Date: Thursday 30th May 2013
Time: 7 pm.
Place: Sala Cotxeres, Palau Robert. Passeig de Gràcia, 107 08008 Barcelona
Other useful information: Limited seating (120 people). The talk will be in English and there will be simultaneous translation service. 
Organized by: Centre for Genomic Regulation (CRG)
Sponsored by: Fundació Banc Sabadell
Supported by: Fundación Española para la Ciencia y la Tecnología (FECYT), Red de Unidades de Cultura Científica e Innovación, Ministerio de Economía y Competitividad (MINECO) and Generalitat de Catalunya.