CRG-SmS Scientific Coffee: The Future of Energy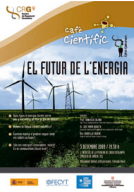 CRG-SmS Scientific Coffee: The Future of Energy
CRG-SMS SCIENTIFIC COFFEE

THE FUTURE OF ENERGY

Which energy will we use to turn on the light in the future? Do we spend too much energy or can we go on with our current habits? Are the renewable energies "clean"? Is the fossil fuel "dirty"?

Speakers:




Prof. Francisco Calviño. Dept. Fisica y Ingeniería Nuclear. Universitat Politècnica de Catalunya (UPC).

Dr. José María Roqueta. Asociación Española para la Promoción de la Cogeneración (COGEN España).

Dra. Gabriella Saibene. Grupo de Física del Plasma. Fusion for Energy.
Date and time

: Thursday, 3 December 2009 at 7.30 pm.


Place

: La Pedrera de Caixa Catalunya. Passeig de Gràcia, 92 - 08008 Barcelona