The CRG at the Festa de la Ciència 2017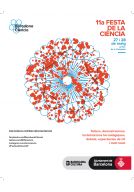 The CRG at the Festa de la Ciència 2017
The Festa de la Ciència is the city science fair addressed to the general public, happening on the 27 and 28 May 2017 at the Parc de la Ciutadella. The CRG is organising the following activities on Saturday, 27 May 2017:
WE ARE NOT ALONE! / NO ESTEM SOLS!
Talk, general public
Toni Gabaldón
11.15h - 11.45h
http://lameva.barcelona.cat/barcelonaciencia/ca/microxerrades
SCIENCE OF THE FUTURE: REALITY OR FICTION? / LA CIÈNCIA DEL FUTUR: REALITAT O FICCIÓ?
Circuit, +6 years old
Marta Inglés, Alvaro Castells, Marina Marcet-Houben
15.30h - 17.30h
http://lameva.barcelona.cat/barcelonaciencia/ca/viure-més-viure-millor
SACA LA LENGUA
Demonstration, + 7 years old
Núria Andreu, Luca Cozzuto, Elisabetta Broglio
13.10h
http://lameva.barcelona.cat/barcelonaciencia/ca/la-ciència-la-fas-tu
BRAIN POLYPHONY
Demonstration, general public
Mara Diersen and Efrain Foglia (CRG), Starlab and Brac Barcelona (Research Art and Creation-UB)
 20.55h
http://lameva.barcelona.cat/barcelonaciencia/ca/escenari-til·lers​