CRG Core Facilities Technology Symposium: Frontiers in Genomics and Epigenetics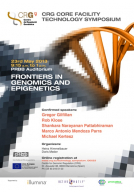 CRG Core Facilities Technology Symposium: Frontiers in Genomics and Epigenetics
Symposium overview
Next generation sequencing has become an essential tool for providing molecular insight into health and disease. Large amounts of data together with low per-base costs have resulted in a large number of experimental protocols that meanwhile are conveniently addressed by high-throughput sequencing. However, challenges remain. In the context of this symposium, speakers will address targeted sequencing of genomic intervals devoid of methylation, ChIP-seq from small amounts of starting material, as well as novel approaches for long-read sequencing.
Confirmed Speakers
Venue
PRBB Auditorium
CRG - Centre for Genomic Regulation
Dr. Aiguader, 88
08003 Barcelona, Spain
www.crg.eu
Registration
Registration deadline was 13 May. Registration was free of charge and open to all PRBB staff as well as external scientists.   
Contact person
Blanka Wysocka
CRG - Centre for Genomic Regulation
Dr. Aiguader, 88
08003 Barcelona, Catalonia, Spain
Tel.: +34 93 316 01 45