CRG BioBusiness School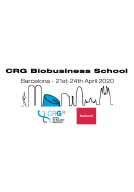 The course is directed to PhDs, Postdocs, Staff scientist and other interested researchers and will be delivered from 21-24 of April 2020 in an online format with highly interactive, hands-on activities. The course aims at providing the fundamental skills to acquire or develop an entrepreneurial mind-set. Participants will not only find out more about creating new ventures and hear the stories of a few science entrepreneurs who have actually launched their businesses; but they will also be involved in designing and initiating a business of their own. Optimizing the use of technology and online collaborative media and tools students will be developing a business proposal, walking over the concepts of a business canvas and the last day they will be practicing a pitch in front of an expert's panel.
The conductor of the course will be Simon Gifford, a professor of Strategy and Entrepreneurship at the highly reputed, IE business School and founder of Mashauri Ltd.
If you wish more information, please drop an email to training@crg.eu