COURSES@CRG: Exome Sequencing Analysis in Disease & Clinical Research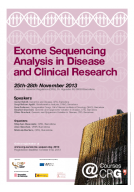 COURSES@CRG: Exome Sequencing Analysis in Disease & Clinical Research
Course Overview
The goal of this course is to provide medical doctors and clinical researchers with basic training in the analysis of Next Generation Sequencing data, with a focus on Exome-sequencing analysis for clinical applications.
The course will give an overview on the Exome-seq method and widely used computational analysis tools. We will discuss practical examples of Exome-seq application for identification of causal variants and genes in Mendelian and complex diseases as well as identification of driver genes in cancer. Practical work will focus on the analysis of Illumina sequencing data, starting from basic operation like viewing the sequence reads and quality control to comparison of sequences to the human reference, variant detection and finally pinpointing of potential target genes. We will analyze two clinical cases, a familial cardio-vascular disease and parent-child trio with child affected by mental retardation. 
Duration of course: 4 days (Monday to Thursday from 4pm to 8pm)
Preliminary schedule is available
here
.
Speakers:
Instructors
Oliver Drechsel, CRG, Barcelona
Rubayte Rahman, CRG, Barcelona
Hana Susak, CRG, Barcelona
Luis Zapata, CRG, Barcelona
Registration
We only accept online registration. The number of participants is limited to 20.
General registration fee:
·

        
Academic researchers and hospital employees: 120 EUR
·

        
Industry: 240 EUR
Registration fee includes participation in workshop, all the necessary tools to follow the course, didactic material, and coffee break.
Click here to register. Registration deadline: October 31st, 2013.
Candidates will be selected based on their position and motivation. Selected participants will be contacted by email by November 8th
Venue
Contact person
Eva Navarrete
CRG - Centre for Genomic Regulation
Dr. Aiguader, 88
08003 Barcelona, Spain
Tel.: +34 93 316 03 75