Courses@CRG: BRAIN ORGANOIDS - ADVANCED HANDS-ON COURSE 2023
Courses@CRG: BRAIN ORGANOIDS - ADVANCED HANDS-ON COURSE 2023
Organoids are revolutionizing the fields of developmental and stem cell biology as they have enabled the in vitro generation of complex structures resembling whole organs. These complex structures provide a unique opportunity to model human organ development in a system remarkably similar to development in vivo. Brain organoids reproduce specific brain structures that recapitulate different human brain regions, including the midbrain, hippocampus among others. Recently, brain organoids technology together with gene editing and single-cell sequencing, have become an excellent model for investigating brain development and the mechanisms of related diseases and has brought unprecedented possibilities for modeling neurological diseases in vitro.
Selected participants will get an overview of the background and current methods for the generation and characterization of brain organoids. They will have the opportunity to learn and practice how to:
Generate brain organoid differentiation systems
Analyze brain organoid system by advanced imaging  and multi-omics approaches
Introducing brain organoids ethics and regulation
Structure of the course
This intensive 6 days hands on course will be composed of talks from renowned international experts in the fields and the sessions will include both theoretical background and hands-on practice. Each day will start with a theoretical overview and talks of the particular subfield (keynote talks will be streamlined online). This will be followed by a more in-depth theoretical session directly linked to the practical session in the afternoon. Practical sessions are going to take place in the CRG training facilities, consisting of fully equipped wet and cell culture labs. The analysis and evaluation of the results will be performed in the CRG bioinformatics teaching laboratory.
Organizers:
 
Sandra Acosta
University of Barcelona (UB), Spain
Laura Batlle
Centre for Genomic Regulation (CRG), Spain
Keynote Speakers:
Stéphanie Baulac, Paris Brain Institute, France
Ira Espuny-Camacho, GIGA, University Liège, Belgium
Oscar Lao, IBE, CSIC, Barcelona, Spain
Andrea Lavazza, Centro Universitario Internazionale, Arezzo, Italy
Simona Lodato Humanitas University, Milano, Italy
Laura Pellegrini (Online talk), King's College London, UK
Marco Straccia, FRESCI Barcelona, Spain
Daniel Tornero, University of Barcelona (UB Neuro), Spain
Instructors:
Mireia Alemany, CRG, Barcelona, Spain
Adria Dangla, CRG, Barcelona, Spain
Laura Garcia González, BBRC-University of  Barcelona, Spain
Martin Gigirey, CRG, Barcelona, Spain
Andrea Martí Sarrias, University of Barcelona, Spain
Almudena Santos, CRG, Barcelona, Spain
Jacqueline Severino, CRG, Barcelona, Spain
Isabel Turpín, University of Barcelona (UB Neuron), Spain
When: 6 days: from 1st to 6th of July 2023 (from 9:30 am to 6:00 pm every day).
Number of participants: 16 (presential), unlimited for the streamed keynote talks
Registration fees: The course is free
Registration for on-site is CLOSE
Open talks (agenda below) will be streamed via Zoom - Registration HERE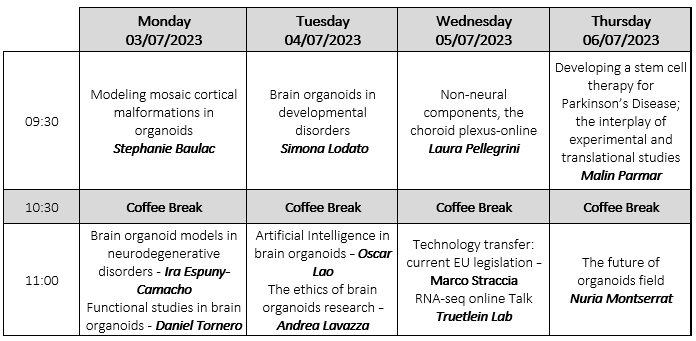 The Institute of Neurosciences of the University of Barcelona is offering one fellowship to a person working in an EU Widening country. The fellowship will cover the traveling and the accommodation expenses.
Venue
CRG – Centre for Genomic Regulation
Dr. Aiguader 88
08003 Barcelona, Spain
Contact email: training@crg.eu
The founder
This workshop is funded by COST Action CorEuStem, CA20140, supported by COST (European Cooperation in Science and Technology)