COURSES @ CRG: High Throughput Sequencing: Lab methods and computational challenges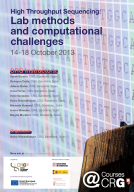 COURSES @ CRG: High Throughput Sequencing: Lab methods and computational challenges
Organizer: Heinz Himmelbauer
 
Course Overview
The goal of this course is to provide young scientists i.e. PhD students and junior postdocs who already have some NGS experience with advanced training in NGS lab methods and data analysis strategies.
This course will give an overview on current and emerging high-throughput sequencing technologies. Practical work and data analysis will focus on the Illumina sequencing platform. Methods covered will include genomic sequencing, exome sequencing, RNA-Seq, ChIP-Seq, and others. Analysis strategies will be explored using test data sets to perform e.g. de novo sequence assembly, variant analysis, and ChIP-seq peak calling.
Duration of course: 4.5 days
Preliminary Schedule is available
here
.    
Instructors
Sarah Bonnin, CRG, Barcelona, Spain
Debayan Datta, CRG, Barcelona, Spain
Juliane Dohm, CRG, Barcelona, Spain
Anna Ferrer, CRG, Barcelona, Spain
Irene González, CRG, Barcelona, Spain
Heinz Himmelbauer, CRG, Barcelona, Spain
Manuela Hummel, CRG, Barcelona, Spain
André Minoche, CRG, Barcelona, Spain
Magda Montfort, CRG, Barcelona, Spain
Registration
We only accept online registration. Registration is now closed.
The number of participants is limited to 12. The positions are open to candidates from institutes worldwide.  Priority will be given to participants familiar with basic lab techniques, Linux and with working from the command line.
General registration fee:
Academic: 350 EUR
Industry: 500 EUR
Registration includes participation in workshop, all the necessary tools to follow the course, didactic material, coffee breaks and lunches.
Registration for this course closed on Friday August 23rd, 2013. Candidates will be selected based on their motivation and on relevance of the teaching material to their research project. Selected participants will be contacted by email by
August 30th
.
Venue
CRG (PRBB-Building)
Dr. Aiguader 88
08003 Barcelona
Spain
 
Contact person
Eva Navarrete
CRG - Centre for Genomic Regulation
Dr. Aiguader, 88
08003 Barcelona, Catalonia, Spain
Tel.: +34 93 316 03 75