Challenges, Opportunities and Perspectives: 2013 Barcelona Conference on Epigenetics and Cancer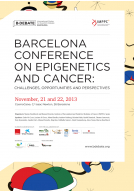 Challenges, Opportunities and Perspectives: 2013 Barcelona Conference on Epigenetics and Cancer
One of the biggest challenges in biomedicine today is understanding how signal pathways regulated by the interaction of genetic programming and environmental factors impact on the epigenetic plasticity of chromatin in health and disease. This knowledge could be exploited for the generation and improvement of novel tools for the prediction, the diagnosis, and eventually the individualized treatment of cancer.
As a joint venture of five leading Barcelonian institutes, the Barcelona Conferences of Epigenetics and Cancer (BCEC) series has been launched to bring together leading investigators in the fields of chromatin research and cancer. We will discuss fundamental aspects of cancer biology and epigenetics and the possibilities to exploit this knowledge for the development of novel tools for the management of cancer.
The first of the BCEC series in November 2013 will focus on discussing in breadth and depth the current challenges, opportunities and perspectives of cancer epigenetics. More specialized topics will ensue in subsequent years.   
Registration
Registration is free but obligatory. For security reasons we cannot register people on the day at CosmoCaixa. Follow the next link to register:
http://www.bdebate.org/en/forum/barcelona-conferences-epigenetics-and-cancer
Registration deadline:
Monday 4 November
midnight.
Please note that if the conference is full we will close the registration earlier.
Call for abstracts
The organisers will select abstracts for a short talk or a poster. If you wish to present an abstract, make sure you have registered
here
. After that, click
here to present your abstract
.
Abstracts deadline:
Friday 6 September
midnight..    
Partner Coordinating Centres:
Scientific Committee: