The Cell Model Contest (2012-2013)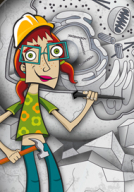 The Cell Model Contest (2012-2013)
The cell art competition is open to any students between 8 and 18 years old and their teachers!
There are 3 categories and 3 prizes within each category, including a prize for teachers!
You don't have to know everything about the cell, you just need imagination and curiosity!
Come on! Start learning more about the cell, ask the experts or check it out in the library. Then get some materials and build your own cell sculpture.