Brain Awareness Week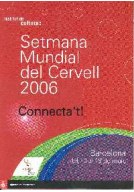 THIS PAGE IS NOT AVAILABLE IN ENGLISH
Setmana Mundial del Cervell 2006
Entre el 13 i el 19 de març tindrà lloc a Barcelona la Setmana Mundial del Cervell 2006, amb activitats per a escoles, conferències, debats i concerts musicals, d'entre altres. Totes aquestes activitats culminaran el dia 24 de març, a les 21.00 h, amb la Neurofesta, que tindrà lloc a la Sala RazzMatazz.
Aquest és el tercer any consecutiu que Barcelona participa en aquest esdeveniment, que es desenvolupa en més de 62 països arreu del món. La Setmana Mundial del Cervell està organitzada per la doctora Mara Dierssen, del Centre de Regulació Genómica (CRG), juntament amb l'Institut de Cultura de l'Ajuntament de Barcelona, la International Behavioural and Neural Genetics Society (IBANGS) i la Societat Espanyola de Neurociències.
En aquesta edició hi participen investigadors de l'entorn del PRBB, tant del CRG com del Departament CEXS-UPF, de l'Hospital del Mar, de l'IMIM, així com d'altres institucions de la ciutat.
L'objectiu d'aquesta activitat és promoure el coneixement sobre el cervell i sobre les neurociències entre els alumnes d'escoles, universitats i el públic en general, i està coordinada a Europa per la European Dana Alliance for the Brain. Segons dades d'aquesta institució, la Setmana Mundial del Cervell implica a més de 1.875 organitzacions, incloent-hi escoles, universitats, organitzacions mèdiques i de recerca, associacions d'ajuda a pacients, agències estatals, etc.
Per a més informació (programa, laboratoris col·laboradors i pàgina de l'esdeveniment), cliqueu en els enllaços de la vostra dreta.