Activities for the International Day of Women and Girls in Science on February 11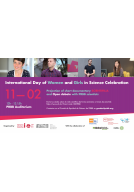 Activities for the International Day of Women and Girls in Science on February 11
This week (from 10th to 14th February 2020), the PRBB through the Park's Gender Equity Committee, and the CRG Gender Balance Committee, invite you to participate in a series of activities to visualise the gender gap in science as a real problem that affects us all, and work together to close it. Read this article in El·lipse with the details of all activities.
February 10 (morning)
"Design your own algorithm - Ada Lovelace Course to decipher the information contained in molecules': Specific bioinformatics hands-on workshop targeting secondary school students to help them to discover computational biology and programming, and aims to empower girls in STEAM. Designed by members of the Gender Balance Committee at the CRG, together with the Communications Dept.
February 11
CRG Social Media Campaign:  Action to give visibility to the role of women in reserach. It highlights the role of a scientific woman that inspired other women or whose achievements are considered relevant. The hashtag of the campaign is #SheInspiredMe
February 11, 12pm to 1.15pm, PRBB Auditorium
Documentary and round table: Don't miss the documentary Scientifilia, directed by our colleague Pilar Rodriguez (IBE), followed by a round table with researchers from the PRBB centres:
> Pilar Ortiz, PhD student at DCEXS-UPF
> Sandra Acosta, postdoc at IBE (CSIC-UPF)
> Rafael De La Torre, programme director at IMIM
> Luis Serrano, director at CRG
> Denise Naniche, scientific director at ISGlobal
February 11, 4pm to 8pm, Ramón y Cajal Room
#viquidonesPRBB: Would you like to see a fairer share of female scientists and their contributions on Wikipedia? Come and change it! We will bring the coffee and cakes, as well as the experts who will help you close this gender gap by completing the wikipedia with a more equitative gender perspective. Be the change you want to see... And do it in good company! You don't need previous experience in wikipedia editing; @viquidonesUPF and @amicalwikimedia will take care of that. Just bring your laptop and stay as little or as long as you want. You can just pop by, but it will help us if you register here your interest in participating: https://comunicacioprbb.typeform.com/to/gS5nuS
February 6 to 14, PRBB Reception
Exhibition "Dones de Ciència": Stop, breathe in and be inspired by this exhibition by the Institut Català de les Dones to remember some of the most relevant Catalan female scientists. 
"Who's Who" game: How many female scientists from all over the world can you recognise? Put your knowledge and your deductive habilities to the test with the "Who's who" of science! The PRBB Gender Equality Committee created this game in 2018 to highlight the roles of female scientists from different periods and origins. Stop by and play!