7th Barcelona Science Slam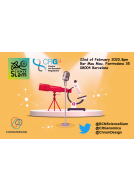 7th Barcelona Science Slam
The CRG organizes the 7th Barcelona Science Slam on Saturday the 22nd of February at 8 pm at Bar Mau Mau (Fontrodona 35, 08004 Barcelona). The winner will win a trip to Trieste to present his/her research at the European Science Slam finals, which will take place in frame of the ESOF2020 conference in Trieste in July 2020.
The Barcelona Science Slam encourages PhD students and postdoctoral researchers to participate, which provides an exciting opportunity to learn about a broad range of scientific fields and to bring their research closer to the public. A Science Slam is a science communication contest where up to 8 scientists explain their research projects in 5 min engaging, clear and funny talks. You can see some examples of previous editions of the Barcelona Science Slam here
Are you a PhD student or postdoc at research centre or university? Then sign up to become a science slammer by uploading a one-minute video of you describing your research project by 18th February. You will be notified on the 19th of February if your slam has been selected.
Apply HERE
If you have any questions, please don't hesitate to send an email to: training@crg.eu