12th CRG Symposium: BCN2 - Biological Control Networks in Barcelona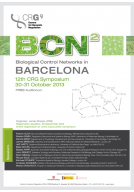 12th CRG Symposium: BCN2 - Biological Control Networks in Barcelona
Welcome to the
12th CRG Symposium
, which this year focuses on
Biological Control Networks
.  
The network has become an icon for systems biology and a central flexible framework for understanding a wide range of biological questions, from gene regulation and cell biology to neuroscience and evolution. This meeting brings together world-leading biologists and theoreticians from around the world to present new views and discuss the latest developments (click
here
for more info about the speakers). Through the diversity of fields presented, the underlying universal aspects of networks, as well as the field-specific features will be explored, through talks, open discussions and a poster session (click
here
for more info about the call for posters).    
Please go to the
Symposium website
for complete info.