Cellular & Systems Neurobiology
Cellular & Systems Neurobiology
Systems Biology
Group page

Research lines

Group members
Cellular & Systems Neurobiology
Cellular & Systems Neurobiology
Summary
The main research interest in my laboratory is to decipher brain mechanisms sub serving learning and memory, and how they are altered in cognitive pathology. We aim at understanding how the neuronal architecture and connectivity constrain the mesoscopic network activity and influences the flow and storage of information in neuronal circuits in cognitive-related disorders. We use behavioural, molecular and structural techniques in genetically modified model organisms to interrogate basic principles of intellectual disability. Also, we obtain structural experimental data from cleared brains which constrain computational modelling and analysis tools to explore the neuronal circuit topologies to understand the organizational principles of mammalian neuronal networks. Finally, we are interested in applying all this knowledge to develop new therapeutic tools targeting neural plasticity which rewire molecular networks, including epigenomic state, to recover impaired structural and functional features in cognitive pathology.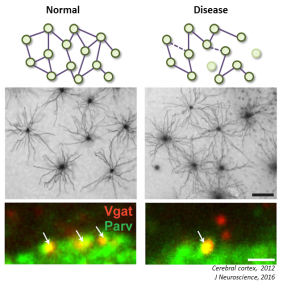 Impact of impaired molecular network and structural connectivity on cognitive-related disorders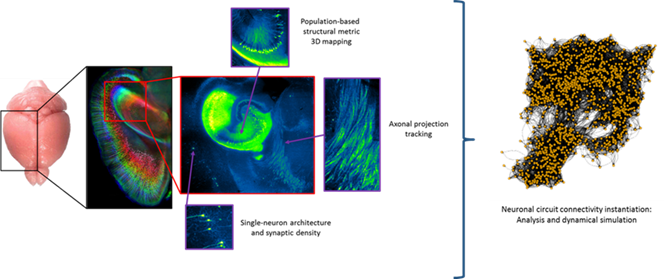 Study of neuronal circuit topologies to decipher the organization of neuronal networks
Other Activities
TEDxSantCugat - Mara Dierssen - La fuerza de la diferencia (in Spanish)
Brain Polyphony Concert 10 December 2016
Neuroscience Christmas Symposium 21 December 2016
International Master Degree in Neurosciences
TEDxSol - Mara Dierssen - Cómo podemos fabricar un entorno que cambie nuestro cerebro (in Spanish)
Computational modelling of dynamical brain states
The main focus of the project is to understand how genetic perturbation in mental disorders modifies the way the brain integrates information. Alterations in the architectural properties of the neurons are observed in most mental disorders and are assumed to be the cause of the cognitive disturbances. Thus, the main question in the field remains how these disturbances of neuronal architecture constrain the network and influence the flow and storage of information in neuronal circuits. We integrate physiological and cellular quantitative measurements with computer modelling. To this aim we are developing a suite of unified tools specially designed for analysing data from brain clearing methods including workflows for neuromorphologically constrained network connectivity instantiation and network dynamics simulation. This innovative and powerful analytical platform will help us understand the neurobiology of mental disorders.
Exploring underlying mechanisms to efficient therapies in intellectual disability
Based on our research we have assessed the efficacy of epigallocatechin-3-gallate (EGCG), the most abundant catechin of green tea, to improve cognitive and brain functional connectivity in Down syndrome (de La Torre et al 2016) and Fragile X. Both disorders are characterized by neurodevelopmental delays in motor, sensory and cognitive processes, but the altered molecular and structural substrates differ. Our results indicate that EGCG acts in both disorders by rewiring molecular networks underlying activity-dependent plasticity. Given that plasticity is significantly higher during perinatal periods, we will investigate to what extent we can prevent maldevelopment through perinatal and postnatal treatments. We are exploring proteomic alterations, transcriptome regulation and epigenomic modifications to decipher the most relevant mechanisms. EGCG also induced complex remodelling of neural circuitry in the hippocampus, and we are interested in establishing the time-course and spatial dependency of the plastic changes and to what extent the local circuit modifications are translated into changes at a more global level. Finally, we study the astrocyte-neuron signalling and its influence in these intellectual disabilities.
Phenotypic roadmap of obesity
Intellectual disabilities are frequently accompanied by obesity, which is now considered a behavioural disorder. We have developed a behavioural model (Heyne et al. 2009) and an open access software to visualize, integrate and analyse behavioural big data (Espinosa et al., in preparation). This model allows the detection of subtle signs of compulsive food taking that appear at an early stage of obesity development. We have explored obesity in intellectual disability disorders, focusing on Down syndrome. Trisomy 21 leads to a higher obesity prevalence that has been related to hormonal dysfunction and reduced exercise. However, our hypothesis is that the trisomy leads to increased obesity risk through abnormal feeding behaviors and differential neurochemical adaptations to an obesogenic environment (Fructuoso et al, in preparation).