Hematopoietic stem cells, transdifferentiation and reprogramming
Hematopoietic stem cells, transdifferentiation and reprogramming
Gene Regulation, Stem Cells and Cancer
Group page

Research lines

Group members
Hematopoietic stem cells, transdifferentiation and reprogramming
Hematopoietic stem cells, transdifferentiation and reprogramming
June 1969 Ph.D. at the University of Tuebingen
1969-1971 Research assistant at the Max Planck Institute of Virology, Tuebingen.
1972-1973 Postdoctoral Fellow (Fellowship from the "Jane Coffin Childs Memorial Fund Research") and Instructor, Dept. of Microbiology and Immunology, Duke University, Medical Center, Durham, N.C., U.S.A.
1973-1975 Assistant Professor, Max Planck Institute of Virology, Tuebingen.
1975-1978 Associate Professor, Max Planck Institute of Virology, Tuebingen.
1978-1983 Section Head and Professor, Institute of Virology, German Cancer Research Center, Heidelberg.
1983-1998 Programme Coordinator and Senior Scientist, European Molecular Biology Laboratory, Heidelberg.
1998-2006 Professor of Developmental and Molecular Biology, Albert Einstein College of Medicine, Bronx, NY 10461.
2006-2015 ICREA Research Professor and Group Leader, Centre for Genomic Regulation, Barcelona, Spain
2015-present Senior Scientist, Centre for Genomic Regulation, Barcelona, Spain
Summary
Our laboratory has developed a 100% efficient transdifferentiation system, namely the conversion of B cells into functional macrophages by the overexpression of the transcription factor C/EBPa. Using this system we are studying how C/EBPa activates the macrophage gene expression program and concomitantly silences the B cell program. We are also interested in how C/EBPa collaborates with pluripotency factors in the generation of induced pluripotent cells.
This work will enhance our understanding of normal differentiation and its aberrations in blood cell cancers. A better understanding of cell conversion processes might also help designing new protocols for the improved reprogramming of somatic cells that could become useful for tissue replacement.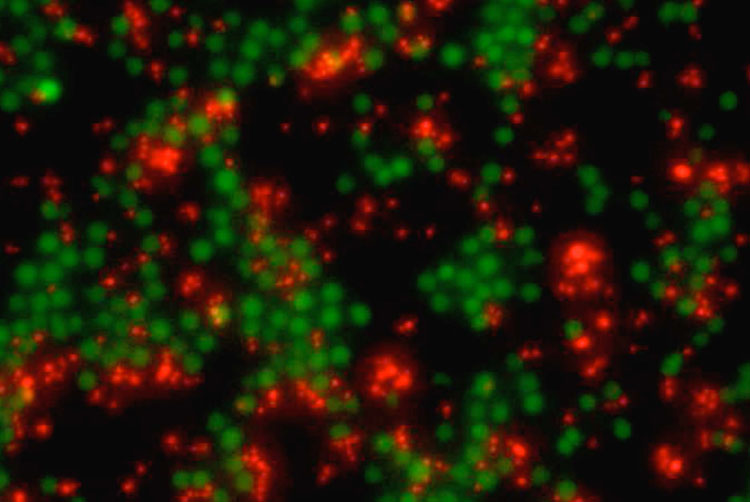 Transdifferentiation in action. The video shows a culture of B cells labeled with green fluorescent protein (GFP) surrounded by red fluorescent yeast (Candida albicans). As the transcription factor C/EBPa is activated within the B cells these aggregate and turn into macrophages that ingest the yeast, so that 51 hours after activation all pathogens became eaten. Credits: Jose Luis Sardina,  Francesca Rapino and Timo Zimmermann.
ERC Synergy Project - Dynamics of Genome Architecture in Stable and Transient Changes in Gene Expression
Chromosomes and genes are non-randomly positioned in the cell nucleus and the vision of a dynamic and complex organization of the nucleus is replacing the classical view of genomes as linear sequences. (+more info)