Transferable Skills
Together with the other CRG training activities, this initiative is dedicated to developing and promoting the careers of our residents. A wide range of courses on scientific and soft skills are offered to boost their careers and allow them to explore various future career options.
Basics of statistical testing
Applied Training in Advanced Light Microscopy and Imaging
Hands-on Galaxy tutorial
Scientific poster design
Lab Management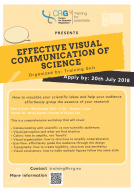 How to visualize your scientific ideas and help your audience effortlessly grasp the essence of your research When reading research papers, conference posters or viewing slide presentations, people look at figures first. To make these effective, we...