Science
Together with the other CRG training activities, this initiative is dedicated to developing and promoting the careers of our residents. A wide range of courses on scientific and soft skills are offered to boost their careers and allow them to explore various future career options.
Basics of statistical testing
Applied Training in Advanced Light Microscopy and Imaging
Hands-on Galaxy tutorial
Scientific poster design
Lab Management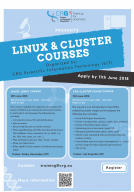 18/06/2018 - 10:00
19/06/2018 - 13:00
BASIC LINUX COURSE 18/06/2018 - Bioinfomratics room (468) - 4th floor - 10am - 1pm This course is suitable for beginners and explains the basics of GNU/Linux commands and scripts creation. In particular it encompasses the following key concepts:...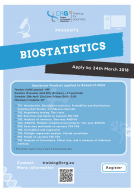 20/04/2018 - 10:00
22/06/2018 - 15:00
The course will give an overview of important concepts and methods used to analyse "Biomedical data". The emphasis will be on the understanding of statistical concepts and their interpretation in a research framework. After a general introduction on...