Science
Together with the other CRG training activities, this initiative is dedicated to developing and promoting the careers of our residents. A wide range of courses on scientific and soft skills are offered to boost their careers and allow them to explore various future career options.
Basics of statistical testing
Applied Training in Advanced Light Microscopy and Imaging
Hands-on Galaxy tutorial
Scientific poster design
Lab Management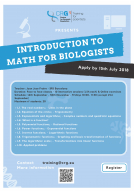 14/09/2018 - 10:00
30/11/2018 - 12:00
Motivation and description of the course:  Modern Biology is becoming an increasingly quantitative discipline that requires a high degree of interdisciplinary interactions among scientists. Biologists usually face the most difficult part of...