José Luis Sardina Ortega
Graf Lab
Group page

Research lines

Publications
Graf Lab
Hematopoietic stem cells, transdifferentiation and reprogramming
Staff Scientist
José Luis Sardina Ortega
Short CV
2010 PhD Dept. Biochemistry and Molecular Biology, University of Salamanca, Spain
2010-2012 Postdoctoral work at the IBFG, CSIC-USAL, Salamanca
2012-June 2018 Postdoctoral work at the Center for Genomic Regulation, Barcelona, Spain
June 2018 Staff Scientist at the Center for Genomic Regulation, Barcelona, Spain
News
Take my hand and ride with me - over the genome (01/10/2018) 
Researchers at the Centre for Genomic Regulation (CRG) in Barcelona, Spain, have identified the mechanism by which an important enzyme involved in the differentiation of stem cells is brought to the DNA. Their results, published in the journal Cell Stem Cell, describe for the first time a new way in which proteins interact with the genome, a novel approach that shakes up our previous knowledge in the field. The work also sheds light on fundamental processes such as the formation of pluripotent stem cells but it also expands our understanding of blood cancer.
Summary
Cytosine methylation at CpG dinucleotides is the major epigenetic modification of mammalian DNA and plays important roles in development and cancer. Although DNA methylation is generally assumed to be associated with transcriptional repression its role in gene regulation during differentiation remains poorly understood.  DNA demethylation can be either passive, by dilution of DNA methylation after each cell division, or active when initiated by Tet dioxygenases.
Cell fate decisions are typically initiated by transcription factors (TFs) that regulate gene expression in concert with epigenetic modifications. Recent studies have shown that DNA methylation can modulate TFs binding to DNA and 5hmC can recruit chromatin remodeling complexes. However, whether the dynamic interplay between DNA modifications and chromatin-associated proteins is a driving force of cell fate decisions, including somatic cell reprogramming into induced pluripotent stem cells (iPSCs) is unknown. This is largely due to the low proportion of somatic cells that can be reprogrammed, an obstacle that we and others have recently overcome by the development of highly efficient reprogramming protocols. In addition, it is now possible to measure not only 5mC but also 5hmC genome-wide at single nucleotide resolution. The combination of these methodologies, together with the transposase-based ATAC assay to monitor chromatin accessibility, now allow studies addressing the causal relationship between DNA methylation and enhancer activity during induced cell fate changes.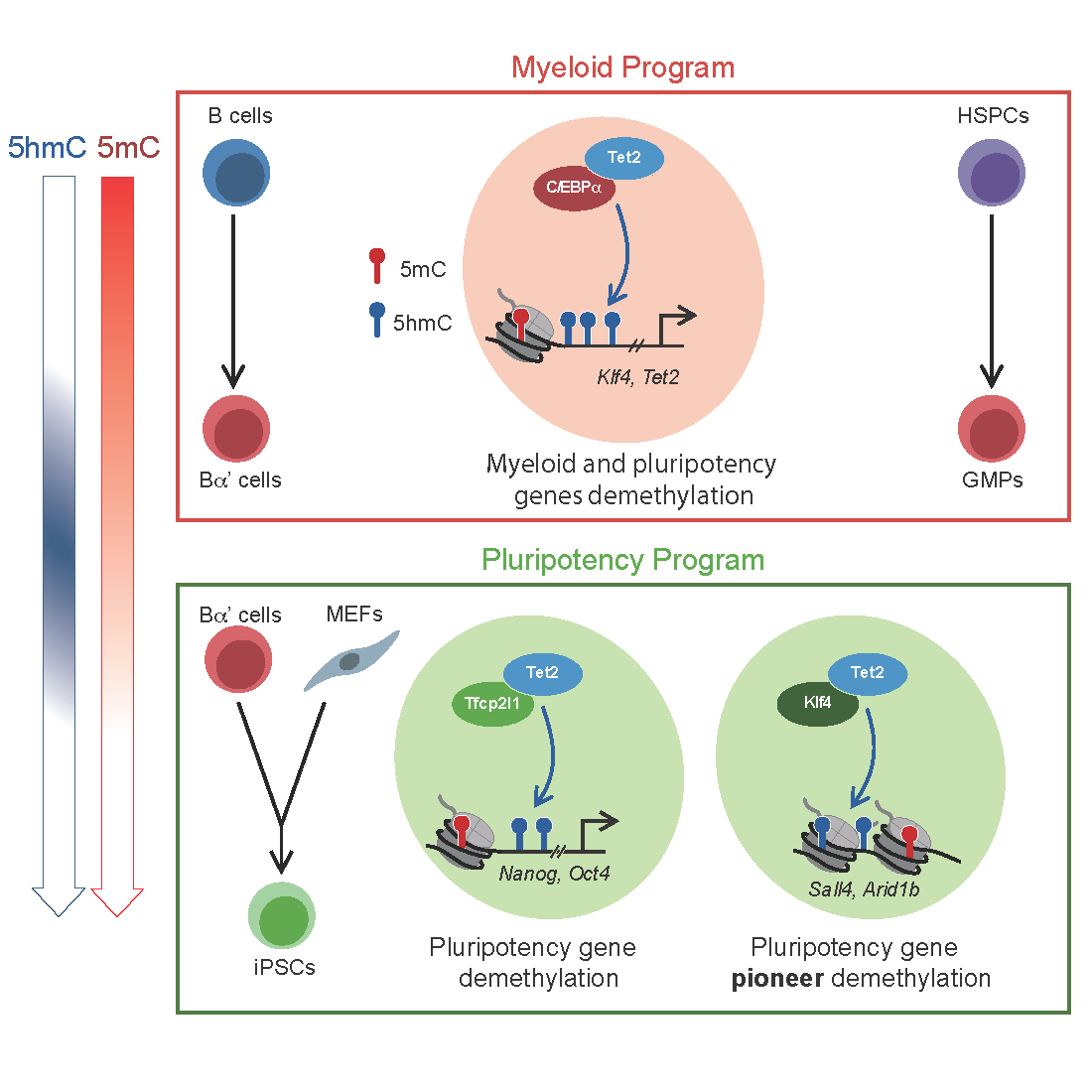 1- Molecular mechanisms controlling active DNA demethylation during pluripotency establishment.
Of the three Tet enzymes described, Tet2 seems to be the family member most important for somatic cell reprogramming. Ablation of Tet2 partially inhibits the upregulation of myeloid genes during C/EBPa-induced B cell transdifferentiation into macrophage. Likewise, the knockdown or knockout of Tet2 partially impairs the OSKM-induced reprogramming of B cells or MEFs, respectively. Conversely, Tet2 overexpression increases the reprogramming efficiency of B cells. As Tet2 lacks a DNA binding domain, it needs to be recruited by a transcription factor to gene regulatory elements. A number of transcription factors interacting with Tet2 have been described, including PU.1, Wt1, Nanog, and Sall4. However, the role of Tet2-mediated active demethylation in cell reprogramming, and which transcription factors recruit the enzyme to DNA during this process is poorly understood. We are using the very rapid and highly efficient iPS reprogramming system developed in the laboratory of Thomas Graf (Di Stefano et al., 2014) to shed light on this issue.

2- Molecular mechanisms controlling TET2-dependent aberrant chromatin structure in blood cancers. 

Somatic mutations on genes regulating DNA methylation are associated with malignant transformation and progression. Among the most frequently mutated genes in blood cancers is TET2 (7-50% of patients).  TET2 mutations are known to induce aberrant gene expression profiles, which finally lead to the onset of hematological diseases. However, the molecular mechanisms for which impaired TET2 activity influences the chromatin status to rewire a normal gene expression profile into a tumorigenic one are still poorly understood. To decipher such molecular mechanisms, we are using a system set up in laboratory of Thomas Graf that allows highly efficient conversion of B leukemic cells into non-tumorigenic macrophages (Rapino et al., 2013).