Sensory Systems and Behaviour
Sensory Systems and Behaviour
Systems Biology
Group page

Research lines

Group members
Sensory Systems and Behaviour
Sensory Systems and Behaviour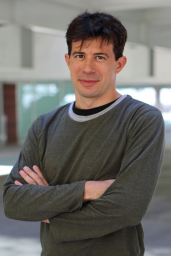 January 2008-present Group Leader, EMBL-CRG Systems Biology Unit, Centre for Genomic Regulation, Barcelona
2003-2007 Postdoctoral Fellow, Vosshall Laboratory of Neurogenetics and Behavior, The Rockefeller University
2003 PhD University of Cambridge
1999-2003 Predoctoral Fellow, EMBL-European Bioinformatics Institute
1999 BA in Theoretical Physics, Université Libre de Bruxelles
Group News
Remote control of behaviour (22/06/2015)
Neuroscientists at the Centre for Genomic Regulation (Spain) characterize how olfactory signals are represented in sensory system and they exploit this knowledge to remote control behaviours.
Cracking the function of the fly olfactory system to understand how neural circuits work (02/06/2015)
CRG scientists have undertaken to map the neural circuitry involved in the conversion of olfactory inputs into navigational behaviours in the fruit fly larva.
Summary
The mission of our group is to unravel structure-function relationships between neural circuits, sensory coding and adaptive behaviours. We are interested in understanding how odour tracking comes about in terms of circuit computation. This problem is tackled in the olfactory system of the fruit fly Drosophila melanogaster larva. Our research combines a variety of experimental and computational techniques aiming to define how naturalistic odorant stimuli are encoded and processed in the olfactory system. In particular, we are developing new computational tools to monitor and classify stereotypical behaviours automatically. We are seeking to identify circuits involved in the processing of olfactory information and the making of decisions underlying chemotaxis.
Shared Software